Pulling off a stellar brand goes beyond an eye-catching logo. There's one thing all successful retailers have in common: A cohesive brand experience. Whether they're known as the place to take cute photobooth pictures, offer incredible graphics and video at their store on a huge video wall,  or have a custom-branded basketball game customers can play, these stores have meticulously molded how the world sees their companies. 
Here are 10 tech-infused tricks to nail your store's brand. 
1. Savvy Shelves

 High-tech shelves can summon branding info about every product. For example, the screen can display details about the beneficial properties of a bottle of moisturizer a customer picks up, using your brand's voice.
2. Revolutionary Fitting Rooms
Use a mirror kiosk to engage your customers in the fitting room. It can show complementary accessories and styling suggestions based on what the customer tries on, creating deeper engagement.
3. Window Shopping 2.0
Bring your brand to life with interactive glass windows. A swimwear boutique might display the seashore, while a sporting goods store could showcase views of stadiums.
4. How It's Made
Brands based on artisanship can show how their products are made on their in-store displays. Show up-close views of textile manufacturing or jewelry-making to engage customers.
5. Set the Mood
Interactive video walls or kiosks can create an ambiance at your store. High res graphics on a large display or their own photos even can mesmerize them, create a sort of exclusivity, and in turn create a very real brand experience.
6. Go Virtual
Virtual reality can bring your brand into customers' daily lives. For example, a furniture retailer can create an app that lets shoppers see how a sofa will look in their homes. Metroclick's Madison Square Garden Lexus Lounge Installation allows customers to play basketball in VR. 
7. Get Social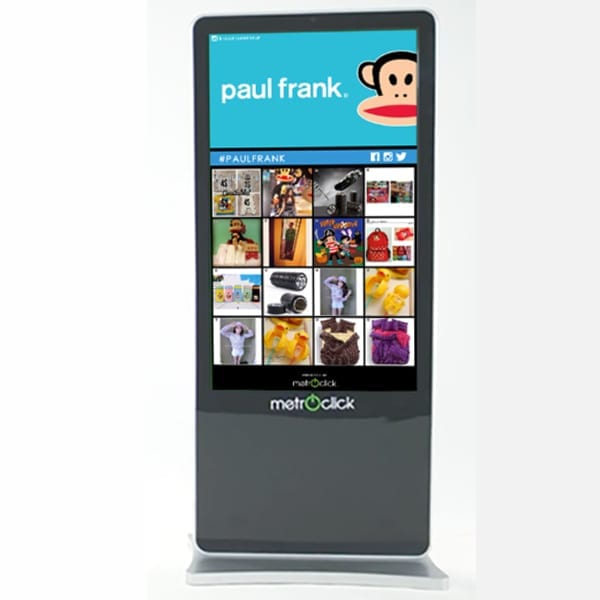 You social media branding shouldn't only live on a smartphone screen. Use a social media board to create synergy between your online presence and your physical store, whether that's through photo booths, wayfinding system, social streaming, or live feeds. 
8. Share Your Stories
Powerful storytelling is the foundation of great brands. Bring these stories to life on in-store displays through interactive imagery.
9. Power of Personalization
The more you can use tech to let customers personalize the experience, the more affinity they'll feel toward your brand. A kiosk could allow shoppers to customize certain products and have them shipped to their doors.
10. Smart Checkout
This feature lets customers check out quickly, making the entire brand experience seamless. This also works hand-in-hand with personalization, as checkout allows instant customer recognition, complete with preset payment and shipment information.
To learn more about how to infuse interactive tech into your brand, click here.