Metroclick
Latest Digital Signage Software Solutions
No matter the size, industry or market – MetroClick realizes that no two brands are created equal. As leaders in retail touch screen technology, we specialize in brand and/or unique product specific software that uniquely showcases your brand by an engaging experience. We create quality digital sign solutions (rent digital sign, buy digital sign) that are sure to impress clients and customers.
POPULAR FEATURES OF OUR DIGITAL SIGN SOFTWARE
DIGITAL DISPLAY SOLUTION WITH SOCIAL MEDIA
MetroClick digital signage software can pull live social media feeds of brand hashtags, account tags or geotags, displaying posts with each tag from Facebook, Instagram, and Twitter.
Our digital display software also allows users to share their new purchase, picture or discovered content on Facebook or Twitter with included pre-filled brand tags and content.
This system organically boosts brand impressions and awareness by way of each user's share.
SOFTWARE & SOLUTION for PAYMENT
MetroClick digital payment software allows users to explore various products and product configurations through the interactive digital display.
Directly from the device the user has the ability to make a purchase with a single tap of their mobile device. API payment integration allows for on-demand check out with a credit card, Apple Pay, or Android Pay.
Utilizing our MetroClick kiosk management software paired with a MetroClick kiosk, setting up your digital shopping experience is an easy out-of-the-box solution.
DIGITAL BOARDS AND CONTENT DEVELOPMENT SOLUTION
Make use of our digital advertising boards and customized signage platform to re-purpose existing brand content or develop new content to display on an interactive platform.
Content can range from quizzes, games, interactive commercials, promotional video or static content, directories and digital wayfinding maps.
DIGITAL SIGNAGE SOFTWARE FOR CONCIERGE SYSTEMS
MetroClick's custom concierge software systems allow guests to explore local activities, send navigation directions to their mobile device, check the weather, learn about upcoming events, buy merchandise, make reservations or place service orders.
For more information, see our work in hospitality.
INTERACTIVE DIRECTORY VIA DISPLAY BOARD SOFTWARE
Display more than simple text with an interactive directory using our display board software. Take advantage of a large format display by integrating company logos, slideshows and more.
With an interactive building directory, you have unlimited listing capabilities for your building's companies and individuals. Our Interactive Directory App is loaded with the following features:
Custom Branding and Imaging
Interactive Company Logos
Train Times
Building and Facility Information
Building Announcements
Time/Date
Weather
News Ticker
CLIQCLIK PHOTO BOOTH SOLUTION
Our CliqClik Photo Booth Software Solutions integrate brand graphics into pictures, videos, and GIFs that users create. This new-age photo booth also has virtual reality capabilities, making for an unforgettable experience. Learn more about the CliqClik Photo Booth.
PUBLIC DISPLAY SOFTWARE – DIGITAL WAYFINDERS AND INTERACTIVE MAPS
MetroClick specializes in creating interactive maps and directories for public large format touch screen displays and wayfinding kiosks.
The perfect solution for a mall or high traffic environment. Let us map out your property, or turn your existing maps into a fun and useful interactive experience.
Standard Wayfinder features include:
Interactive Map
Real-Time Directions
Listings of Locations and Brands
Directory of Events
Live Announcements
Digital Interactive Photobooth
ELECTRONIC SIGNAGE SOFTWARE FOR TRANSACTIONAL (POS) SOLUTIONS
Let MetroClick turn your in-store ordering process into a seamless interactive experience.
No longer worry about getting the customers' order wrong or lengthy check-out lines, our electronic signage systems or self service kiosk offer a robust and secure ordering platform with built-in payment integration.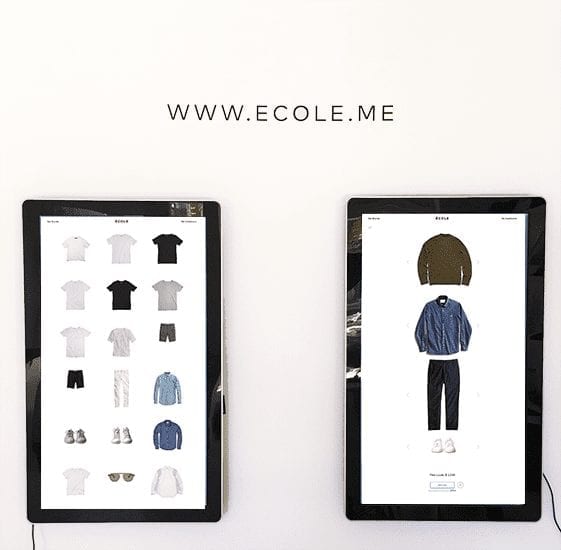 POP-UP SIGNAGE SOFTWARE FOR SHOPPING
MetroClick pop-up shop digital signage software allows users to explore various products in any configuration with a few touch points.
API payment integration allows for on-demand check out via credit card, EMV, Apple Pay or Android Pay.
On a MetroClick kiosk, moving and installing your pop-up shop is as simple as finding a standard power outlet and our system will do the rest.
Additional features include
Video Creation
Interactive Directories
Interactive Schedules
Immediate Order Placement (POS) System
Promotion Redemption
Automated Inventory Referencing
Data Visualization
Virtual Reality (VR) Simulation
Our systems are powered on Windows, Android or Linux based operating systems. Each of our clients is guaranteed a full consultation with our team to identify the best combination of features to optimize their desired solution. To see where our touch screen software has revolutionized experiential marketing and re-defined brand experiences, see our portfolio.
More Information
WHAT IS DIGITAL SIGNAGE SOFTWARE?
As one of the top digital sign companies, we create reliable digital signage software to broadcast high quality multimedia in public places so as to effectively deliver information or product's advertisement.
This information is played on a digital screen usually in the form of a computer mounted on big bright digital devices like plasma or LCD display.
OUR digital display software SOLUTION is classified into three categories :
Content Management system (CMS)
This is where the digital signage player sources the content from. You can upload things such as images, videos, and graphics where the software will display them accordingly on the display screen.
Digital Signage Player
Once you have uploaded your content into the CMS,  your player will then receive them via the network and broadcast them to a digital display.
Digital screen.
The digital screen works with the digital signage player wirelessly to manage and broadcast your visual content. The digital screens vary in price, functionality, size, quality, and durability.
WHY YOU NEED DIGITAL ADVERTISING SOFTWARE?
According to a survey done by consumers,  they find digital-based advertising was the most engaging, mainly video display. It was concluded that video marketing is highly effective in driving buyers to your business.
5 Benefits of OUR Digital Signage SOLUTION
There are many benefits associated with digital signs which help to drive profits for your business.
1. Compared to physical prints, the digital display is super fast and cost-effective in updating and delivering content.
2. Digital advertising can reach multiple places in an instant. Buyers can see your messages whether they are in the grocery store, restaurant or gym.
3. Digital signage hardware like touch screen kiosks allows interaction with your consumers. They can look up for more details and simply check-out themselves during purchases.
4. You can provide entertainment value which will be engaging for your customers. (see digital signage for banks)
5. You can transmit anything to the digital billboard software which ranges anything from photographs, twitter feeds to advertisements.
Contact us today to discover innovative ways we can customize digital signage to your organization's needs.
Have questions? Interested in a quote or RFP? Contact us today and one of our specialists will follow up ASAP!
Los Angeles
1900 State Street
Suite J
Santa Barbara, CA 93101
Miami
7630 NW 25th ST
Suite 2A
Miami, FL 33122

Metroclick Offices
T: 646-843-0888
New York
239 West 29th Street
Ground Floor
New York City, NY 10001