Digital Parking Kiosk Solutions
MetroClick / ALM Parking Digital Solutions
MetroClick has partnered with A Lot Media to create a suite digital solutions to help integrate technology into the parking industry.
Parking Garage Digital Signage Solutions

MetroClick's collaboration with A Lot Media offers a wide variety of display solutions, enabling parking provider to incorporate digital content for any environment. Both weather and vandal proof hardware solutions (IP65 and IP68 rated) allow garage owners and operations to leverage a variety of sizes and formats in any condition.
Digital Dynamic Rate Boards (DDRB)
The Digital dynamic rate board represents the next generation of signage and pricing displays in the parking space. We work with a wide variety of operators and parking equipment providers to offer a dynamic pricing solution to the greater parking industry.
Our Digital Dynamic rate board offers parking operators the freedom to change pricing based on their demand, occupancy rates, or scheduled events. It also enables parking providers the ability to direct guests to other affiliated locations if their locations are at maximum capacity.
This digital infrastructure offers a way to capitalize on real time pricing while creating a modern, digital footprint tailored to individual parking spaces which are yet to be explored.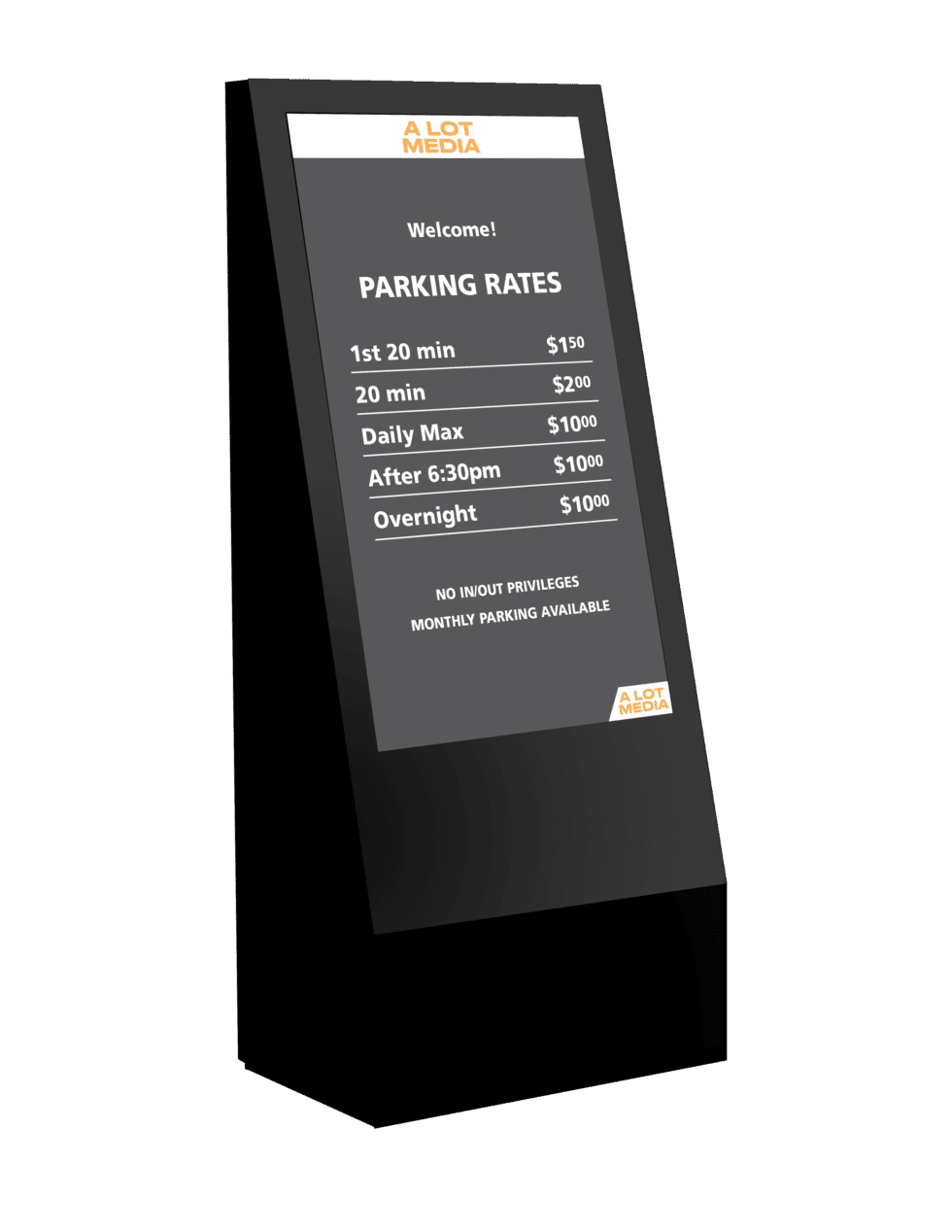 Advertising
In addition rate boards, MetroClick in collaboration with A Lot Media offer end to end advertising services to create new revenue streams for untapped assets and locations in a broad variety of industries. We offer various digital advertising services for both interactive and non interactive displays.
For more information about custom kiosks, touch kiosks and wall mounted parking display solutions, contact us using the form below or at sales@metroclick.com.

Have questions? Interested in a quote or RFP? Contact us today and one of our specialists will follow up ASAP!
Los Angeles
1900 State Street
Suite J
Santa Barbara, CA 93101
Miami
7630 NW 25th ST
Suite 2A
Miami, FL 33122
Metroclick Offices
T: 646-843-0888
New York
239 West 29th Street
Ground Floor
New York City, NY 10001