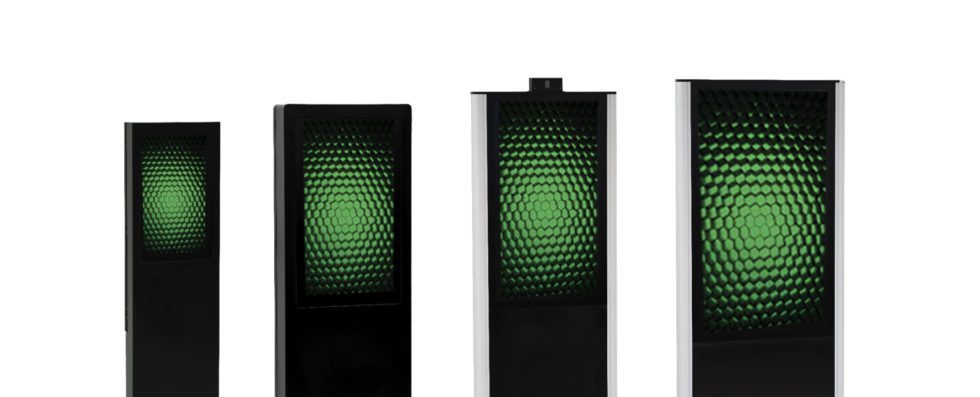 Custom Kiosk Designers
for Commercial, Retail & More
MetroClick touch screen kiosk and large touchscreen monitor offer cutting-edge retail and touchscreen technology. Our devices enable you to keep up with the increasing demand for self-service and dynamic real-time content.
MetroClick Is One Of The Leading Custom Kiosk Manufacturers In The USA
MetroClick touchscreen kiosks and monitors offer cutting edge retail kiosk and event kiosk technology, allowing your business to keep up with the increased demand for self-service and accurate information.
MetroClick Customized Kiosk Designs are
Sure to Engage Your Customers
Have a unique look you're looking for a kiosk manufacturer to create? Don't want to ruin the aesthetic or vibe of your environment? Let us design and build you something that will enhance your space while not taking away from the desired experience. Any screen size, any shape or any encasement, we pride ourselves on the ability to manufacture built-to-spec hardware that gives our customer's the maximum amount of customization to bring their visions to reality.
We Offer the Ability to Customize Kiosks
with the Following Variations
As Customized Kiosk Designers We
Offer the Following Options
Discover the limitless potential of MetroClick's custom kiosk design solutions and elevate your customer experience to new heights. Let us create a tailored, interactive kiosk that perfectly aligns with your brand and business objectives. If there is something specialized you are looking to produce with the functionality of a kiosk, contact us and one of our specialists will personally assist you. We can add photo booth functionality, digital signage solutions, and interactive video features.
Unlock the Potential of MetroClick's Custom Kiosk Solutions' Potential for Your Business
Leverage the benefits of MetroClick's custom kiosk design solutions to enhance customer experiences and streamline operations. Empower your clients to independently explore products, place orders, process payments, and access vital information, freeing up your staff to focus on essential tasks. Our flexible kiosk solutions are expertly tailored to meet your business's unique requirements, with our skilled team offering ongoing support for seamless integration and success.
More Information
How A Custom Kiosk Design By MetroClick Will Revolutionize Your Business
Our custom kiosks are constantly being refined by our steadily expanded technical teams. A key project aspect our dedicated team focuses upon within our project development tracks is make custom kiosks that have unrestrained solution design. Our goal is custom kiosk design that integrates the custom mark, industrial design and branding that aligns with our customer's path.
Four stages of Manufacturing a Custom Kiosk
There are mainly four stages in manufacturing a custom design kiosk:
1st phase – Client Requirements
The first step in manufacturing tailor-made kiosks is to assess and recognize the specific business and application requirements of the customer. Typically, a company professional will help the customers in identifying the potential requirements and also in developing a suitable design for their kiosks that will facilitate seamless customer interactions.
2nd phase – Customized Designs
After deciding on the specifications for the custom kiosk design, the next step is to customize the design based on the criteria for the business. Both the kiosk manufacturing company and the customer should work together to create a design that suits the budget, requirements, and intentions of the customer.
To do this, we go through a software design expert integration process to make sure that the custom design and custom enclosure will provide for seamless customer interactions. After the customer accepts the custom design prototype, the company starts to manufacture a prototype with all the features agreed upon by the technical teams.
3rd phase – Kiosk Manufacturing
Once the prototype for the custom kiosks is successfully complete and the customer is satisfied with it, the next phase is the production of the custom kiosk.
4th phase – Kiosk Deployment
Well-designed custom kiosks can draw in customers or visitors by providing them with information or help. For example, custom kiosks at movie theaters can help customers avoid standing in long queues by browsing through and locating show timings or seat availability. In museums, interactive kiosk information systems help visitors get detailed information about a particular subject without having to depend on a guide.
Use of custom setup kiosk technologies for your marketing & operations
The custom kiosks are mainly used to provide tickets, food items, and up-to-date free public information. There are various types of kiosks, ranging from small street-side booths that sell cigarettes and newspapers to the modern high-tech interactive kiosks and multimedia internet kiosks.
Have questions? Interested in a quote or RFP? Contact us today and one of our specialists will follow up ASAP!
Los Angeles
1900 State Street
Suite J
Santa Barbara, CA 93101
Miami
7630 NW 25th ST
Suite 2A
Miami, FL 33122
Metroclick Offices
T: 646-843-0888
New York
239 West 29th Street
Ground Floor
New York City, NY 10001