Your space.
Your smiles.
Your night.
Buy your photobooth.
PHOTO BOOTHS FOR SALE IN
NEW YORK AND BEYOND
Purchase A Metroclick Photo Booth
Buy our MetroClick photobooth today and add a new dimension to your NYC space by allowing customers to take pictures of their night surrounded by your branding.
MetroClick ensures your New York venue is the most talked about place, allowing them to share pictures directly via MMS, Email, Twitter, and Facebook.
Sizes of Photo Booths for Sale
The photo booths for sale range from 21.5", 32", 42" and 55" in display sizes.
Photo Booth Features
Photos and Playback User can take moving images in addition to static ones, making CliqClik the most modern photobooth on the market.
Playback recording allows users to capture videos that playback automatically similar to a boomerang feature. Regular video with branded graphics is available too.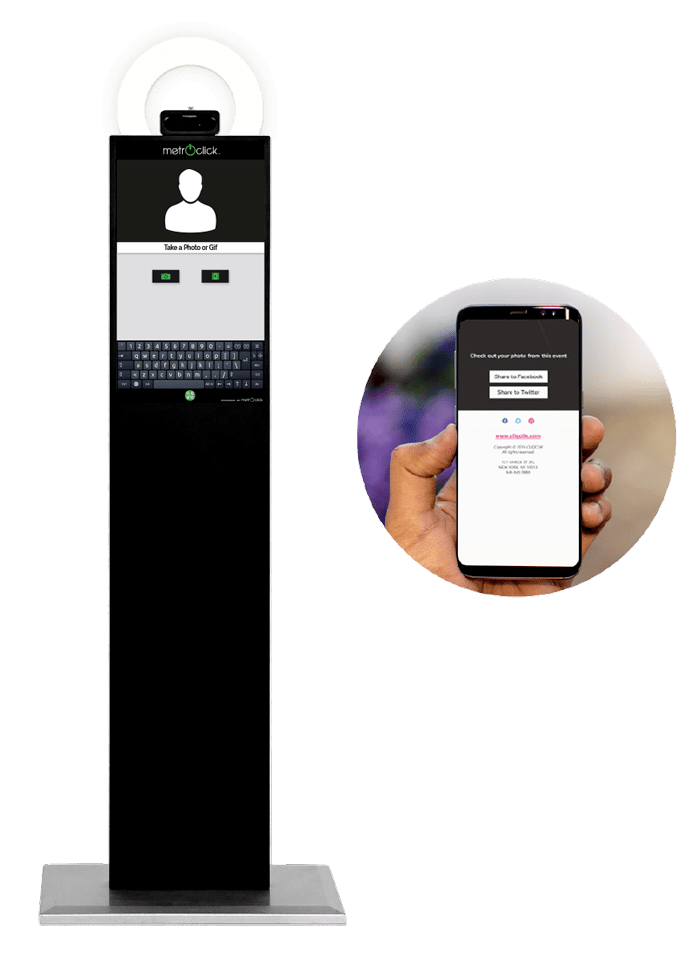 Backlight Technology
The Large Format Multi-Touch Photobooth Kiosks are manufactured featuring full HD industrial 24/7 LCD panels for constant use with energy-saving LED backlight technology.
Appearance
All digital photo booth models come with 10 point multi-touch capacitive Touch Panels and have a slim, extraordinary stylish appearance.
Social Media
Social Media, MMS, and Email Integration allow users to share their photo directly to Facebook, Twitter or Instagram via a streamlined email link sent from the photo booth. Sharing capabilities include pre-filled captions, account tags, geotags, or hashtags.
Don't want to send to social media directly? Send yourself an MMS or email message a custom brand the way each guest receives it. Maybe offer them a special to your venue, a way to sign up for newsletters, maybe even a way to directly like your social feeds.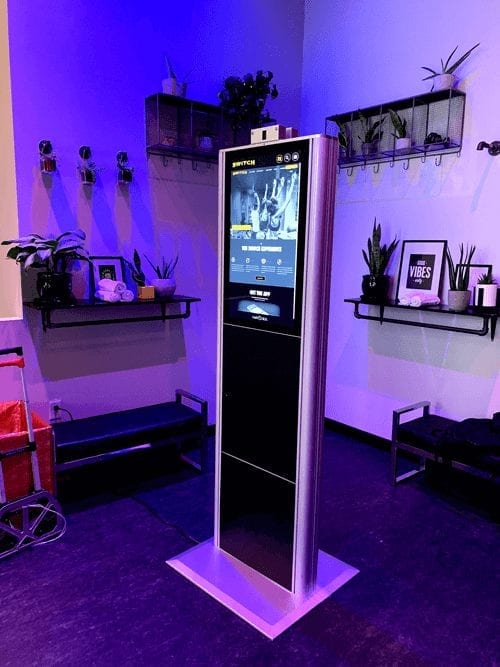 More Information
BUY INSTEAD OF RENTING
Just about everyone at one time or another has sat in a photobooth and had their picture taken. Now you can buy a photo booth of your very own to rent out for parties or weddings.
They are a great party activity that everyone enjoys participating in.
BUSINESS
Obviously, if you are thinking of going into the picture booth rental business, you will need to buy a booth eventually. You could rent one to try it out for a while to see if it's something you may want to do.
One thing you may want to look into is going with a photobooth franchise. This can save you a lot of hassle in finding a photo booth, plus the parent company will help you get started with publicity and operation.
WHAT WOULD I NEED
If you are going into the photo booth business, you would need to start with the booth itself. You probably would want to look for a portable unit so you can take it from location to location.
Booths come equipped with either a digital or classic camera.
The digital gives you quite a bit more flexibility in terms of what you can do with a picture once it's been taken. Digital photos can be edited on the spot and printed out on a variety of papers.
HOW MUCH DOES RENTING COST
Photobooth rentals have been growing in popularity since they were first available for rental about a decade ago. We know that having a one at your event will provide numerous positive enhancements to the overall experience of your event.
The main question you probably have is how can I afford to rent a booth? You'll most likely be surprised to discover that renting is something that you can afford.
CHOOSING THE RIGHT PHOTO BOOTH MANUFACTURER IN NY
When looking for photobooths in NY make sure to look over all the different packages that they offer. Chances are that the rental company will have a package which suits your event just right.
Some companies offer different types of photobooths for rental.
Their classic (first generation) booth generally cost more to operate and thus have a higher cost of rental. These first generation booths may also have additional requirements for your venue due to their bulkiness and their greater weight.
This type of booth will most likely cost between $900 and $1500 for its rental for four hours.
COST OF DIGITAL PHOTO BOOTH
The newer (digital) booths are easier to maintain and in turn, their rentals are less expensive than the classic booths. You also don't need to worry about the digital booths easily fitting into your venue because these booths weigh considerably less and are far less bulky than the classic style booths.
For a digital booth, you can expect anywhere from $650-$895 for the same time frame with most companies. The more reputable companies are competitively prices due to high demand in the market. Then again, they also have the coolest booths in the market.
RENTAL COSTS
Like buying anything thing else you need to be careful of the fine print when breaking down the rental cost. Some companies charge additional fees for their services or have different ideas of what is included in your rental period.
Your photo booth company should never try to charge for delivery (if it is a local event) or count the set-up/teardown of the booth as part of the contracted hours to be worked.
Now while you may think you got a deal on a 4hr booth rental today, just how much of a deal is it really gonna be when they use the first hour to set-up and the last to tear down.
Now you thought you were paying for 4hrs of photos, but all you ended up with was two hours of photos and a live show of an attendant assembling then disassembling your booth. The rental company should provide you with the amount of time you have paid for and do the setup/ teardown outside of that time.
The standard rental should also include a photobooth specialist to set up and dismantle the booth. This attendant should also be expected to be present throughout your event. If any issues arise he/she can fix the problem very quickly.
Your guests will most likely have a couple of questions for the attendant to answer. The attendant being present also further assures that your guests will have a great time at your event.
INSTANT PHOTOS
When using a photo booth, photos are instantly given to guests. Professional photographers take engagement and must have wedding and reception photos, but the couple and families need to wait weeks to see them. The pictures are easy to receive.
Couples can think of creative ways to join the photos into the reception. They can have a photo board or hanging photo tree to get the guests involved. These ideas can extra fun to the evening and give both the couple and guests special memories from the wedding to take home with them.
Wedding Photo Booth
A wedding photobooth allows guests to bring home personalized wedding favors that they will be able to keep forever and actually treasure.
Many couples feel obligated to supply favors to their guests but buy cheap trinkets just so guests have something. However, guests will enjoy and keep photos from the wedding that are fun mementos.
Unique guest book
Photos from a photo booth create a unique guest book. Adding photos to the guest book will transform it from traditional to unique. Most booth rental companies have experienced staff members that can assemble the keepsakes and take care of problems that arise.
They can direct guests to the photo booth as they arrive and add the photo to customized book immediately. Guests can also leave a special message next to their photo to give the couple as a treasured keepsake forever. Guests are one of the most important parts of the wedding day. Couples want memories of them being there.
The best way to capture their attention is with pictures. Especially if couples only have one photographer. Each photo strip is customized to memory book just like the guest book. Couples will really enjoy looking through the book while on the honeymoon. It will show how much fun guests had at the wedding while couples were having fun at the reception.
Props
Props make photos taking much more fun. Booths with props are fun for people of any age. Props will give guests a variety of dress-up options and fun pictures to take. Most booths have an overflowing trunk of props that is constantly being added to.
Couples can even add certain props that go with a themed reception. The more props there are, the more guests will use it and have fun. Standard props are feather boas, mustaches, signs, and big crazy sunglasses. Couples add creativity as they want with the props to see the goofy side of all guests.
It allows guests to mix, match, and exchange photos with friends and family. Duplicates help more guests to take home their own photos while still allowing the couple to keep photos for the guestbook.
Customized Branding
Booth customization and branding: vinyl wrap, vinyl decal, and custom casing.
Digital Branding
Customized framing, themed watermarks, colors or and digital branding for each venue.
Emoji Feature
Allows customers to drag digital stickers or emojis onto their photo booth photos.
Scribble Feature
Allows users to draw on their photo with various pen colors or with themed colors.
Need something even more custom?
Contact us!
Social media and Events calendar
Turn your kiosk system into a digital showcase of your venue. Showcase an interactive calendar of all of your events and specials.
Showcase your love social feeds directly on your system. If they your guests don't follow up already, give them an opportunity to learn more about your brand and unique culture.
Advertising
Have a special event or want to offer advertising space on your MetroClick system?
Now you can allocate branded ad or custom content to different areas of the photo booth.
Data capture and Analytics
Now that your guests have an enjoyed their visit to your venue, send them a message so they don't miss the next!
With our proprietary back-end dashboard platform, you can capture all of the data input on your photobooth system to use as remarketing tools for your venue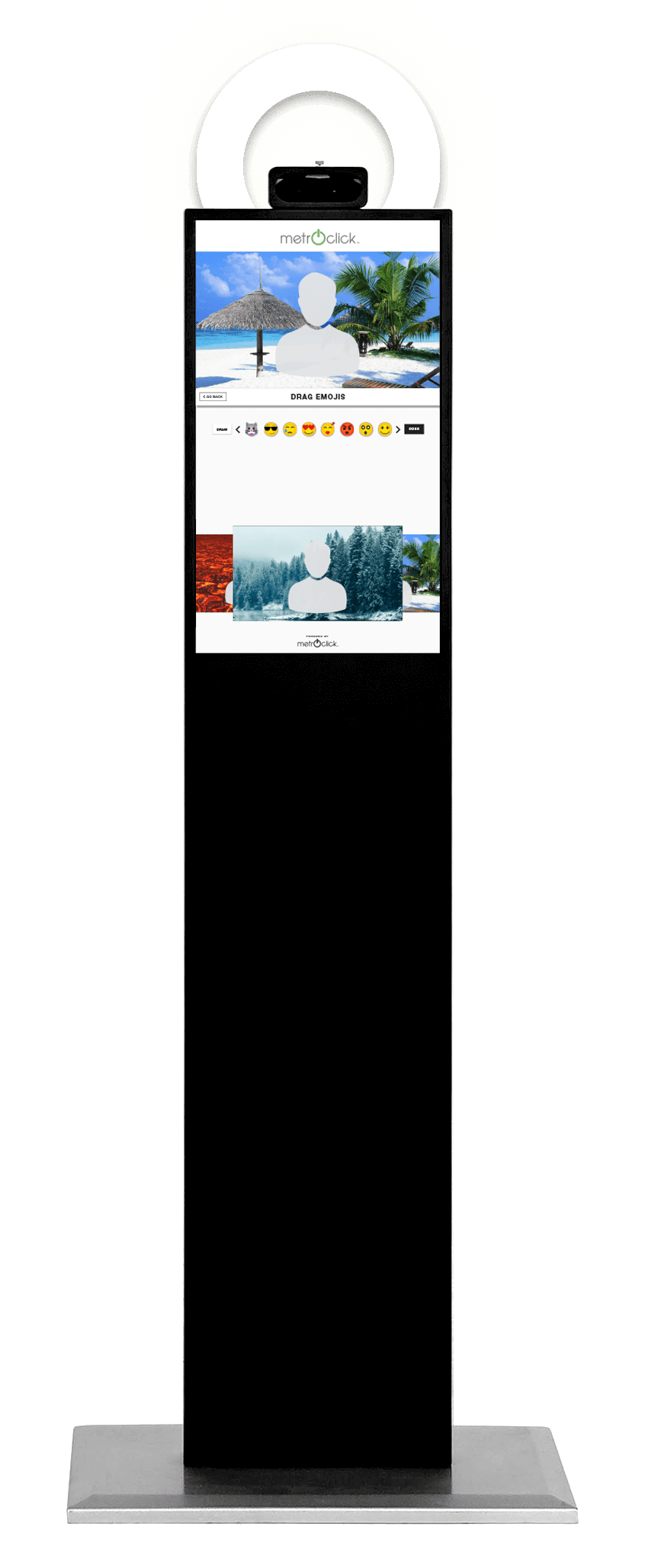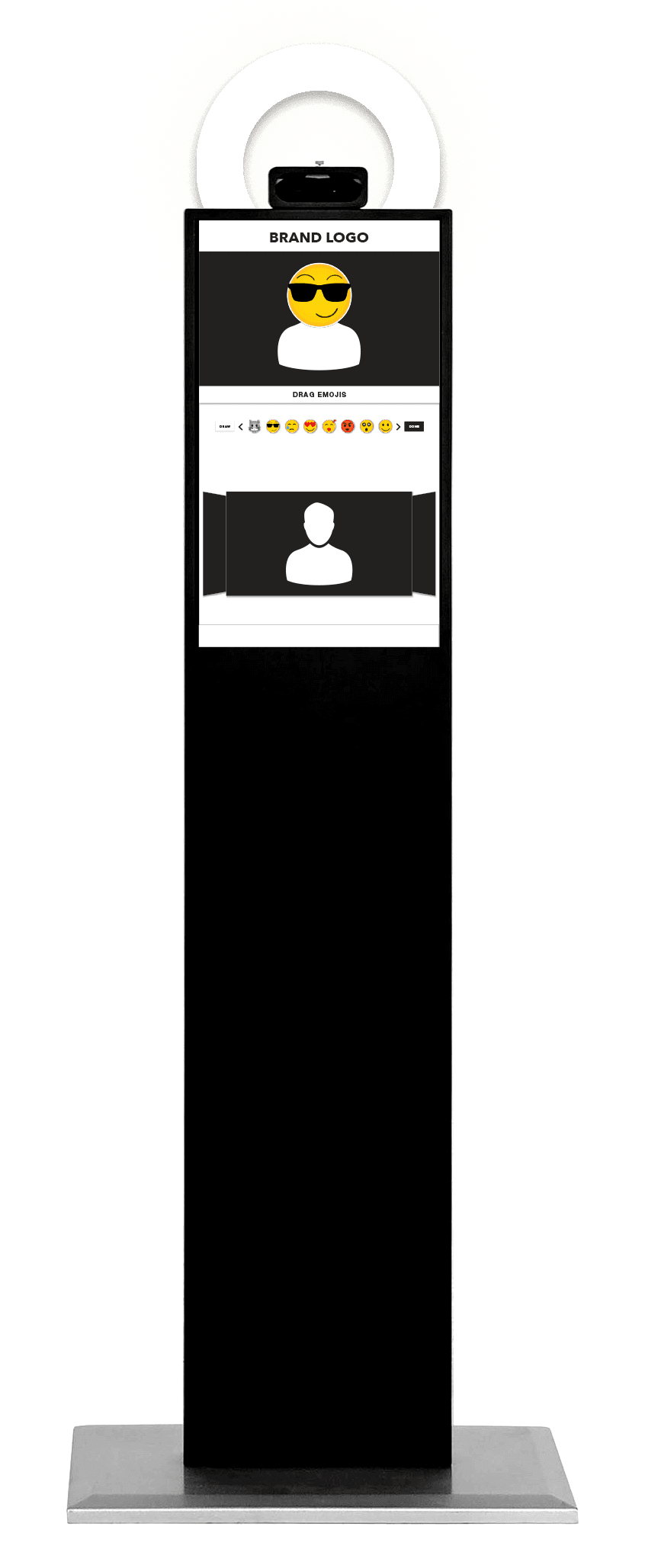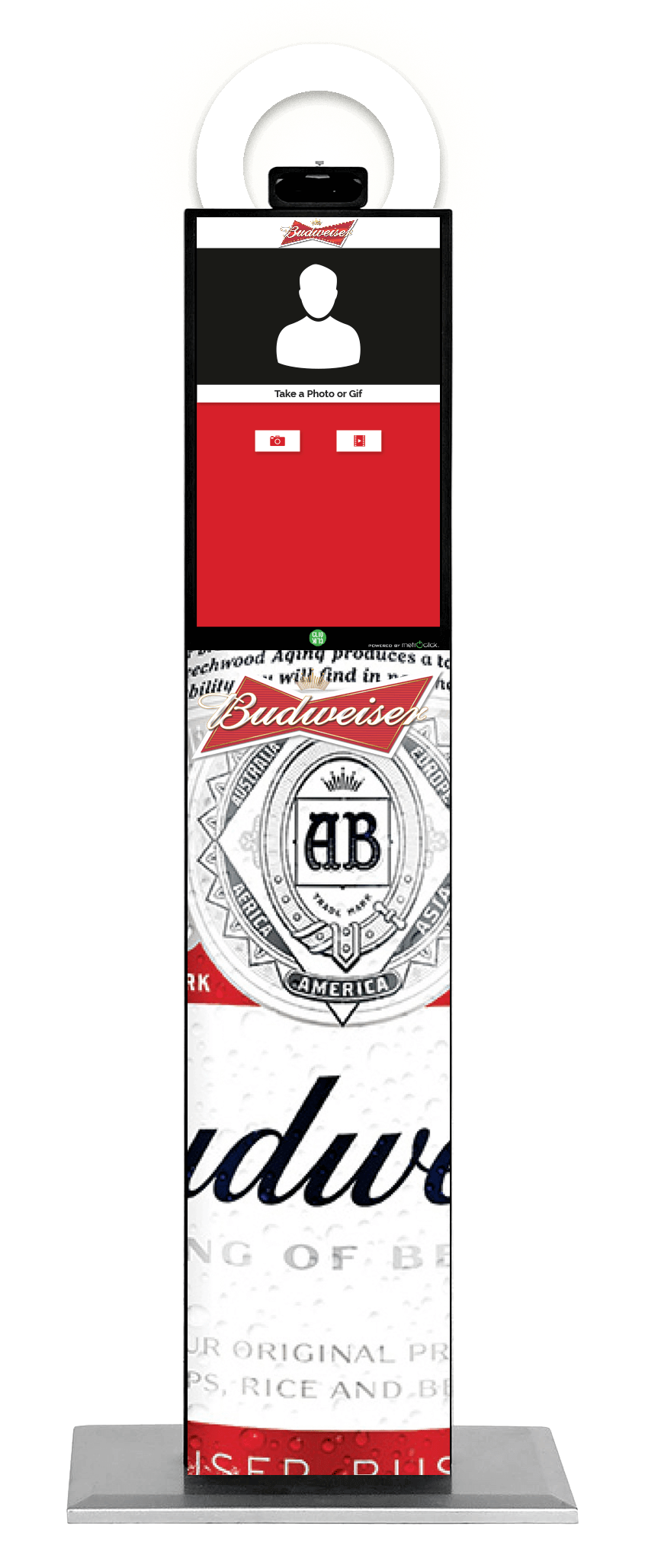 Options to buy a Photo Booth in NY and Beyond
Love Our CliqClik Photo Booth?
Contact Us To Get Started!
121 Varick Street
4th Floor
New York, NY 10013
Telephone: 646-843-0888