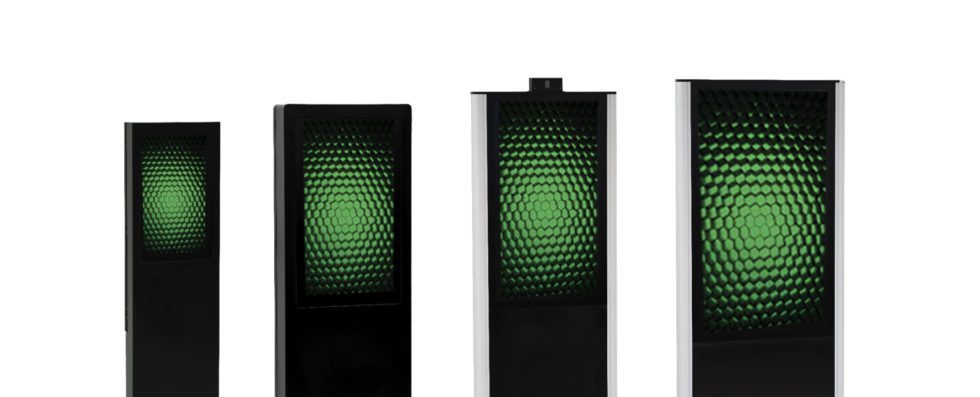 Engaging Interactive Product Display
Kiosks by MetroClick
MetroClick presents flexible interactive product display kiosk solutions suitable for a wide range of industries and sectors. These customizable kiosks come with intuitive interfaces, offering a seamless experience for shoppers. Opting for a MetroClick product display kiosk not only enhances your store but also creates an interactive and efficient platform for customers to access information and services.
Product Display Kiosk Solutions to Enhance the Retail Shopping Experience
Touch screen product display kiosks represent an exceptional integration of digital signage technology. Our  kiosk displays employ cutting-edge digital hardware components and sophisticated software, facilitating seamless communication between businesses and their customers.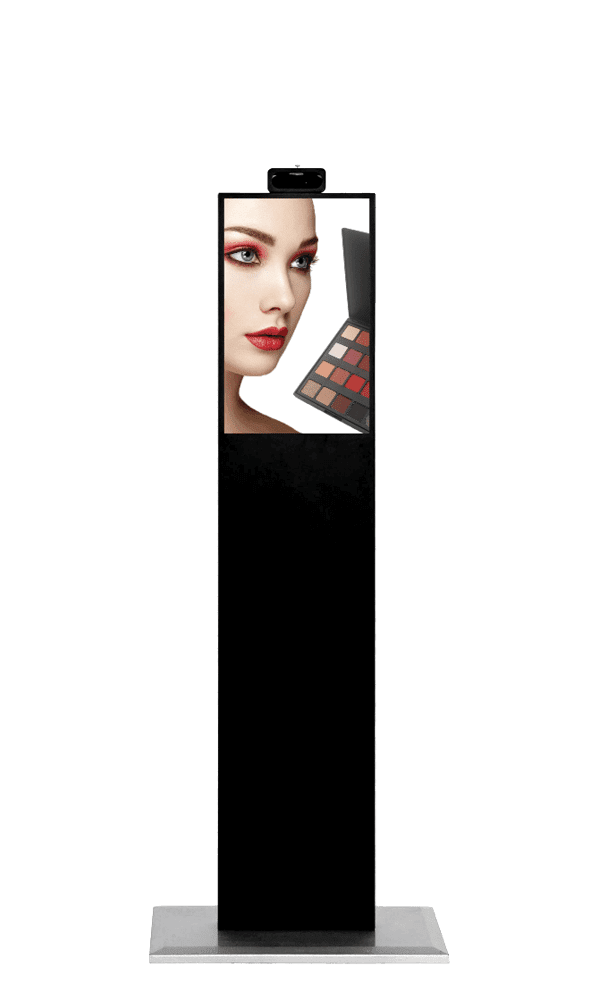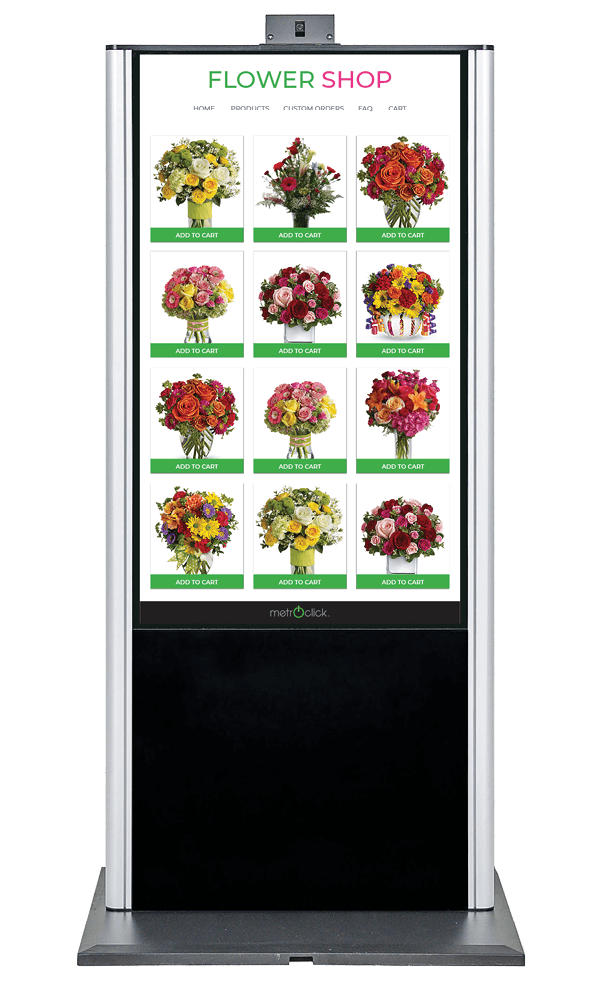 Boost Revenues with MetroClick's Digital Kiosk
Displays for Shopping & Retail
Experience the potential of MetroClick's product display kiosk systems to increase sales and enhance customer interactions. With our tailored product display kiosk designs, enable customers to independently browse products, place orders, handle payments, and access vital information, allowing your team to concentrate on crucial tasks. Our adaptable product display kiosk solutions are meticulously customized to suit your business's specific needs, with our experienced team providing continuous support for smooth integration and outstanding results.
More Information
Display Your Retail Products Using Our Interactive Touch Screen Display Kiosks
As technology paves its way towards our overall lifestyle, businesses are off to cater us innovated market strategies to maximize their profit and offer us the convenience we need.
In a world that rapidly increases in population, we can say that businesses are our hope. Just when E-Commerce is striving to conquer the market, MetroClick, a kiosk company, found its way to attract customers outside the realm of online selling through the use of kiosks.
If you are looking for a better way to take your business ahead of your competitors, MetroClick can help you make your customers experience futuristic convenience and provide the information necessary for them about your services and product lines through the development of the best touch kiosks available.
MetroClick kiosks can include photo booth functionality, interactive touch features and offer a wide range of specialized software features. These kiosks can be used in special events, corporate events, entertainment, hospitality, retail, tradeshows, restaurants and more.
MetroClick Kiosks can be Used as Innovative Custom Product Displays and Retail Product Displays
Metroclick is a kiosk rental company specializing in analyzing your business needs in interacting with your customers and attracting potential new clients. We offer innovative product display ideas that are establishing new trends in interactive technologies.
Our products are guaranteed to successfully boost sales and profits of our customers through channeling our efforts into the marketing of a through enhanced customized interactions. Metroclick has helped businesses grow by engaging their potential clients in new ways.
Product Display Ideas that Utilize Digital Self-Service Technologies
A self-service product display system can increase sales while displaying products that require space or have multiple variations. The kiosk can be installed either inside or outside of your business area to attract people to come in and out of your store. Metroclick focuses primarily in what needs to be done to dramatically boost your business by enhancing your presence in the marketplace.
If your business is a retailer in a mall for example, this new product display idea will serve as guide for new customers who enter your store. With the help of the kiosk, your customers will also enjoy the convenience of being able to browse through multiple products and product variations. This helps your staff to maximize their time while giving store visitors the ability to quickly and specifically browse through all of your product offerings.
Replace Static Product Display Racks with MetroClick's Touch Screen Display Kiosks
The Metroclick kiosk when used as a product display solution is designed to bring the best out of a portable self-service kiosk. It features the software needed to gain more positive feedback and enhance sales activities. This new twist on the old product display rack concept includes a camera, speakers, face recognition, mobile payment integration, credit card processing, receipt and photo printing, RFID, and NFC software.
Of course, the MetroClick kiosk comes with a touch screen model that is very user friendly. All your customers will surely support you more and share the word of what technology has brought to your business.
Why Product Display Kiosks Are a Versatile and Effective Marketing Tool
Product display kiosks are a great option for advertising your product in-store or promoting your brand at trade shows. Not only are they sleek and sturdy, but they won't take up too much floor space at your venue either.
Interactive kiosks are an excellent way to engage customers and deliver superior experiences. Plus, they're highly effective for marketing and sales, boosting your company's profitability in the process.
Display Kiosk Designs Allow for Unique Branding Opportunities
Kiosks are an attractive, interactive way to communicate a brand's message to customers. Whether they are located in malls, airports, train stations or convention centers, these interactive displays attract attention and increase brand recognition.
Display kiosks can be designed in a variety of sizes and styles to fit your business's needs. The most effective ones speak to the customer's curiosity and offer information in an innovative and engaging manner.
One of the more impressive display features is an interactive touch screen. This combines the technology that can be found in a smartphone with an eye-catching design to capture and hold a consumer's interest.
The best ones are made of the highest quality materials and are engineered to stand up to wear and tear. This will help your business maintain its reputation and improve sales, as well.
The process of designing a custom kiosk involves collaboration between engineers and industrial designers. The design team takes into account the client's unique requirements, their budget and manufacturability. They create a list of components needed and design a series of conceptual and environmental renders to illustrate the kiosk's functionality.
The best part is that they are usually able to deliver the product in record time. This makes the process of designing a custom kiosk the best way to boost brand awareness, and improve profitability.
Interactive Display Kiosk for Engaging Experiences at Malls, in Stores, and Retail Spaces
Retail companies strive to give shoppers a personalized experience, and interactive kiosks can play an essential role in this strategy. Not only do they collect helpful data about customer behavior that can be used for creating more tailored promotions such as product bundles tailored specifically towards consumer needs and preferences, but they also provide helpful information about consumer needs and wants.
Kiosks can also help retailers cut staff costs by freeing up employees to focus on other tasks, like stocking or cleaning. This will increase productivity and minimize downtime, leading to higher sales.
When shopping for an interactive kiosk, convenience should be key. Furthermore, make sure the model you select has user-friendly installation and operation instructions as well as flexible development tools that enable central control and seamless integration with inventory systems.
In addition to functionality, an interactive display kiosk should be visually appealing to consumers. A modern look can have a significant effect on customer perception–particularly for small businesses.
Digital kiosks in retail settings can enhance customer experiences and minimize downtime, which is especially important for high-traffic areas. A user-friendly kiosk saves staff a lot of time which leads to higher sales and contented employees. Overall, digital kiosks increase efficiency within businesses while making customers feel more satisfied with their experience.
Streamlined Integration of Product Display Kiosks with Your Brand
Kiosk technology is revolutionizing the way customers shop, and is proving to be an effective marketing tool. This is due to its capacity for dynamic information delivery, reactive advertising, versatility and convenience – all of which are invaluable commodities to customers.
Digital kiosks also present companies with the unique opportunity to collect vital customer data and gain an understanding of their demographic profile and purchase preferences. This helps companies customize their offerings and enhance the user experience, potentially leading to more sales.
Interactive kiosks not only offer a range of services and products, but they can also assist businesses in cultivating brand loyalty by rewarding customers for their purchases. This could lead to increased repeat business as well as greater customer satisfaction levels.
Furthermore, consumers tend to make purchases more frequently when presented with discounts or special offers. Utilizing kiosks for this purpose can save businesses both time and money, making it a cost-effective marketing strategy.
Designing a successful kiosk requires planning out the screens that will be displayed on it. This can be done by creating user stories or wireframes which outline what each screen should look like, so you know where to position them and make sure they're all connected. This will allow for efficient navigation through your kiosk.
Consider a New Digital Alternative with Custom Digital Product Display Design Ideas
With the MetroClick kiosk as a digital product display system, you can better serve your target market, engage potential customers who may not like to interact with staff and streamline the purchasing process in a store.
The kiosks offered by MetroClick is portable and comes in a variety of sizes. Contact us today regarding your product display needs and how a MetroClick kiosk can be customized as a digital product display stand for your organization.
Have questions? Interested in a quote or RFP? Contact us today and one of our specialists will follow up ASAP!
Los Angeles
1900 State Street
Suite J
Santa Barbara, CA 93101
Miami
7630 NW 25th ST
Suite 2A
Miami, FL 33122
Metroclick Offices
T: 646-843-0888
New York
239 West 29th Street
Ground Floor
New York City, NY 10001