The Perfect Photo Booth Solution for Event Planners in New York City and Beyond
Make every picture memorable with advanced content creation, event customization, and social media integration. Available for rent or purchase in New York and beyond, the CliqClik photo booth is ideal for hospitality venues, stadiums, parties, weddings, concerts, and corporate events.
Are you an NY event planner or looking to offer an interactive photobooth solution?
The CliqClik photobooth in an easy to use, easy to set up the system for all of you events. This product offers the latest in touchscreen photobooth technology as well as easy to manage event software system. This system is available in various sizes as well as single sided or double sided. This photobooth is sure to add a new dimension to your next event and have people reliving their fun and sharing their photos for days.
Our NYC Event Photo Booths Include
DSLR Camera

Large format touch screen

Protective traveling case

Easy to use CMS
Custom Emojis

Scribble (drawing feature)

Social media sharing

Printer

Step 1
Choose hardware options that are the best match for your event location and needs
Step 2
Set up a Cliqclik Photobooth account to set up to manage your own events
Step 1
Install the CliqClik photo booth at your next event and blow away the guests
MetroClick Photo Booths for Events
Our MetroClick photo booth technology will add a new dimension to your space by allowing customers to take pictures of their night surrounded by your branding.
MetroClick ensures your NY venue is the most talked about place, allowing them to share pictures directly via MMS, Email, Twitter, and Facebook. Available in 21.5", 32", 42" and 55" €display sizes. MetroClick's Large Format Multi-Touch PC Kiosks are manufactured featuring full HD industrial 24/7 LCD panels for constant use with energy-saving LED backlight technology.
 All photo booth models come with 10 point multi-touch capacitive Touch Panels and have a slim, extraordinary stylish appearance. Photos and Playback User can take moving images in addition to static ones, making CliqClik the most modern photo booth on the market. Playback recording allows users to capture videos that playback automatically similar to a boomerang feature. Regular video with branded graphics is available too.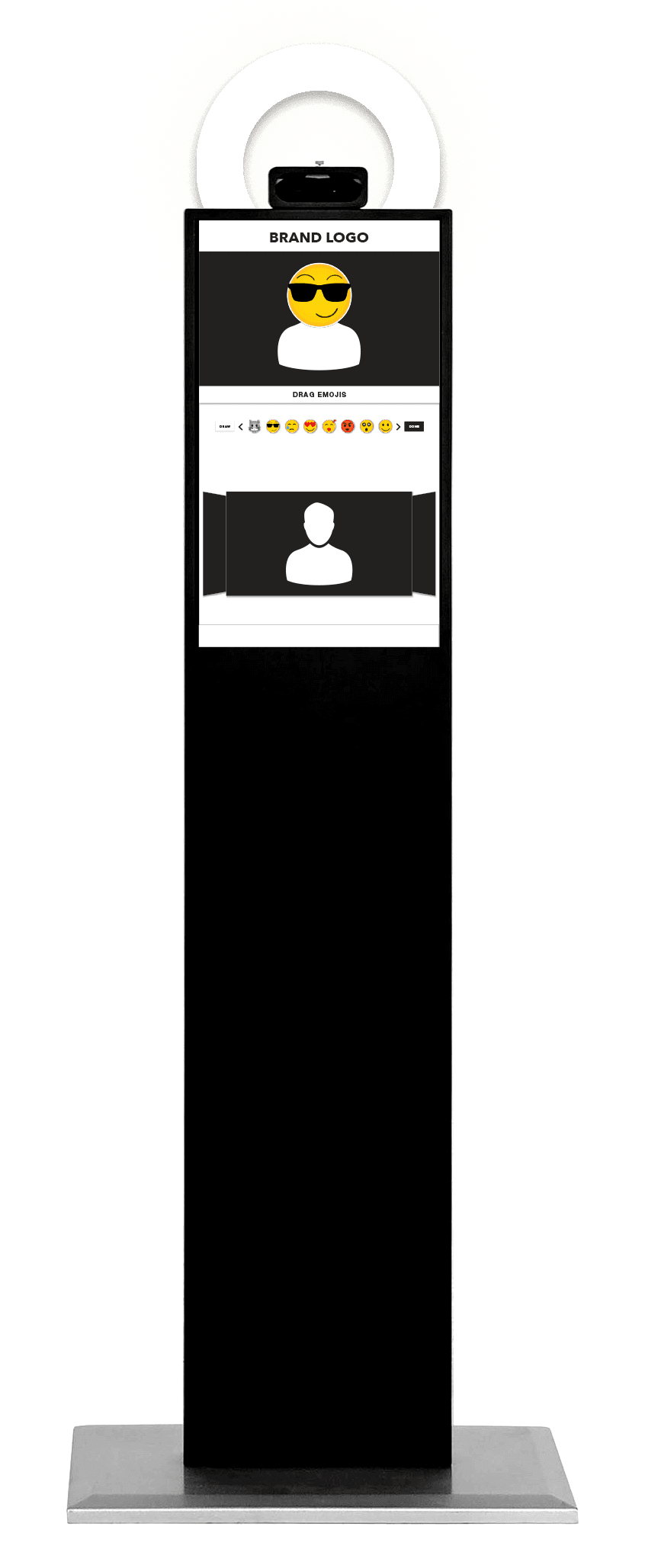 Social Media, MMS, and Email Integration allow users to share their photo directly to Facebook, Twitter or Instagram via a streamlined email link sent from the photo booth. Sharing capabilities include pre-filled captions, account tags, geotags, or hashtags. Don't want to send to social media directly? Send yourself an MMS or email message a custom brand the way each guest receives it. Maybe offer them a special to your venue, a way to sign up for newsletters, maybe even a way to directly like your social feeds.
Customized Branding
Booth Customization and branding: vinyl wrap, vinyl decal, and custom casing.
Digital Branding
Customized framing, themed watermarks, colors or and digital branding for each venue.
Emoji Feature
Allows customers to drag digital stickers or emojis onto their photo booth photos.
Scribble Feature
Allows users to draw on their photo with various pen colors or with themed colors.
Need something even more custom? Contact us!
Social media and Events calendar
Turn your kiosk system into a digital showcase of your venue. Showcase an interactive calendar of all of your events and specials. Showcase your love social feeds directly on your system. If they your guests don't follow up already, give them an opportunity to learn more about your brand and unique culture.
Advertising
Have a special event or want to offer advertising space on your MetroClick system? Now you can allocate branded ad or custom content to different areas of the photo booth.
Data capture and Analytics
Now that your guests have an enjoyed their visit to your venue, send them a message so they dont miss the next! With our proprietary back end dashboard platform, you can capture all of the data input on your photobooth system to use as remarketing tools for your venue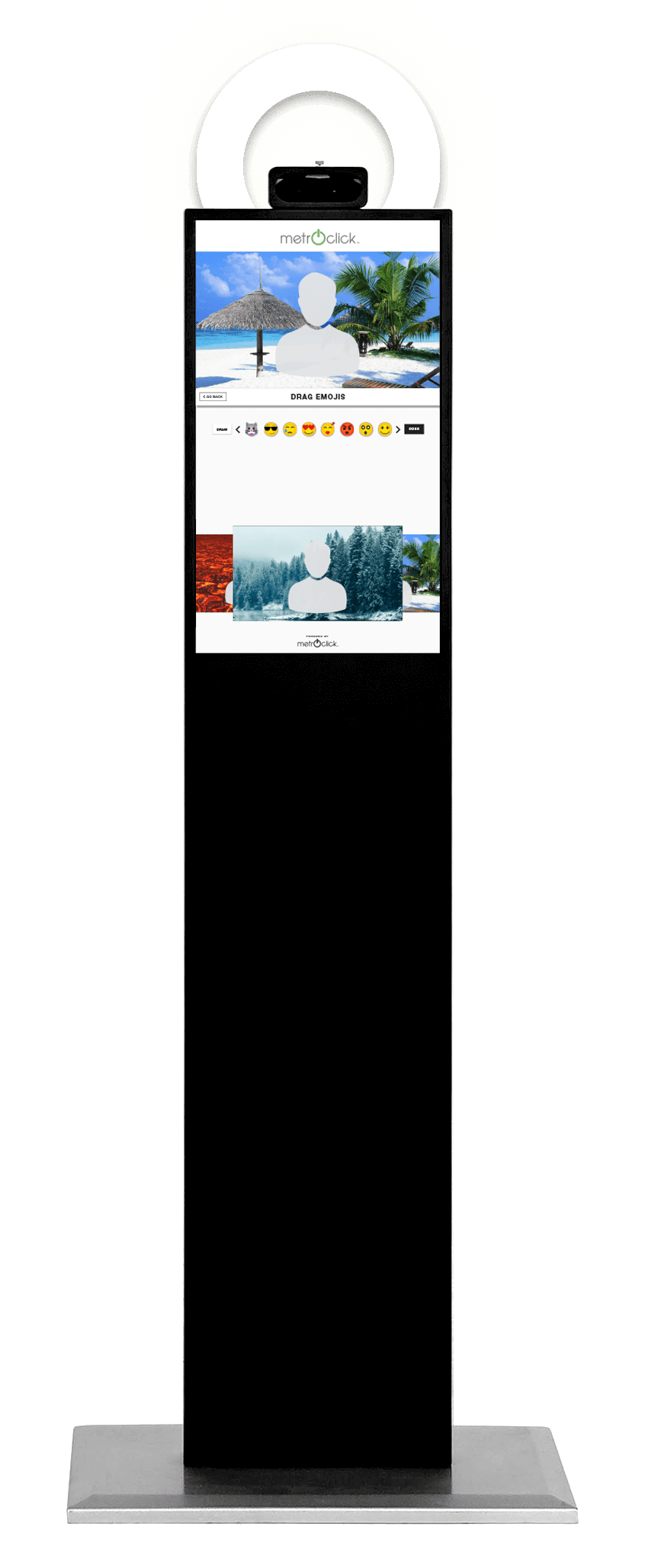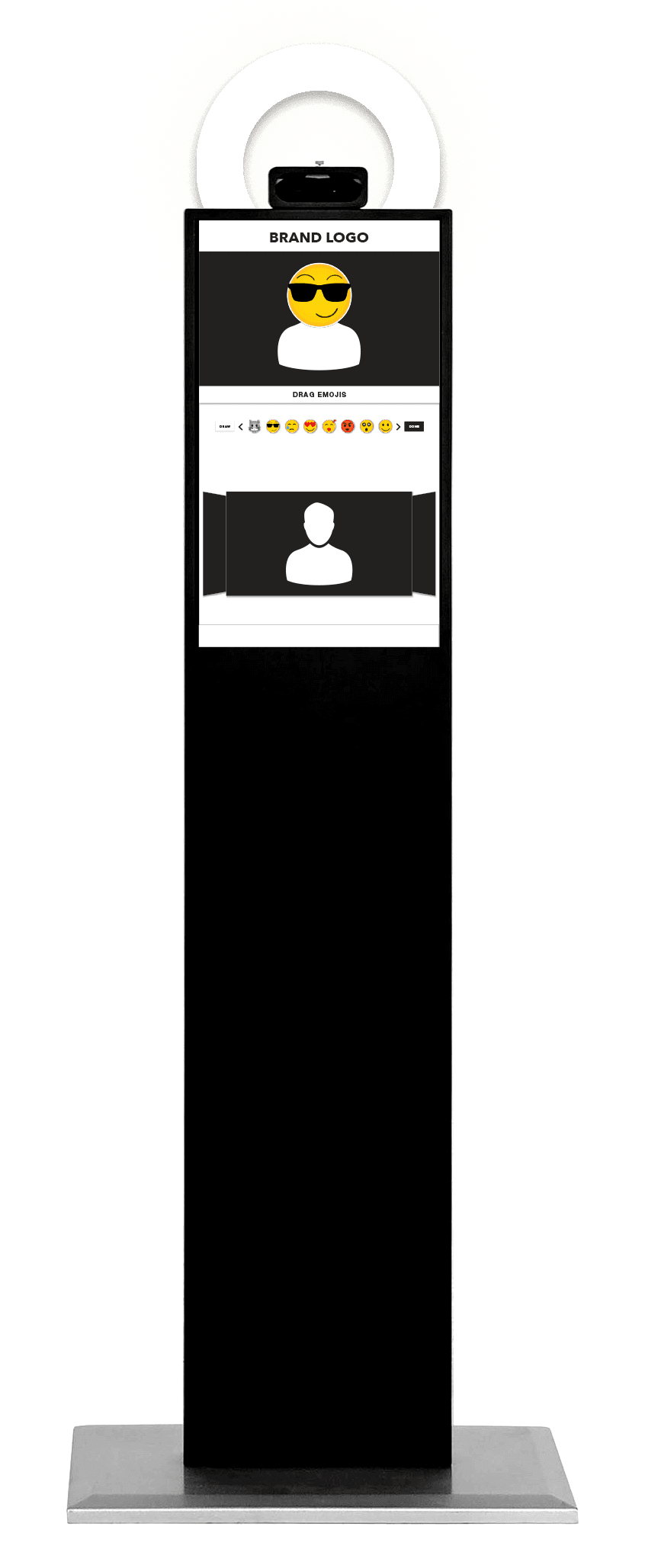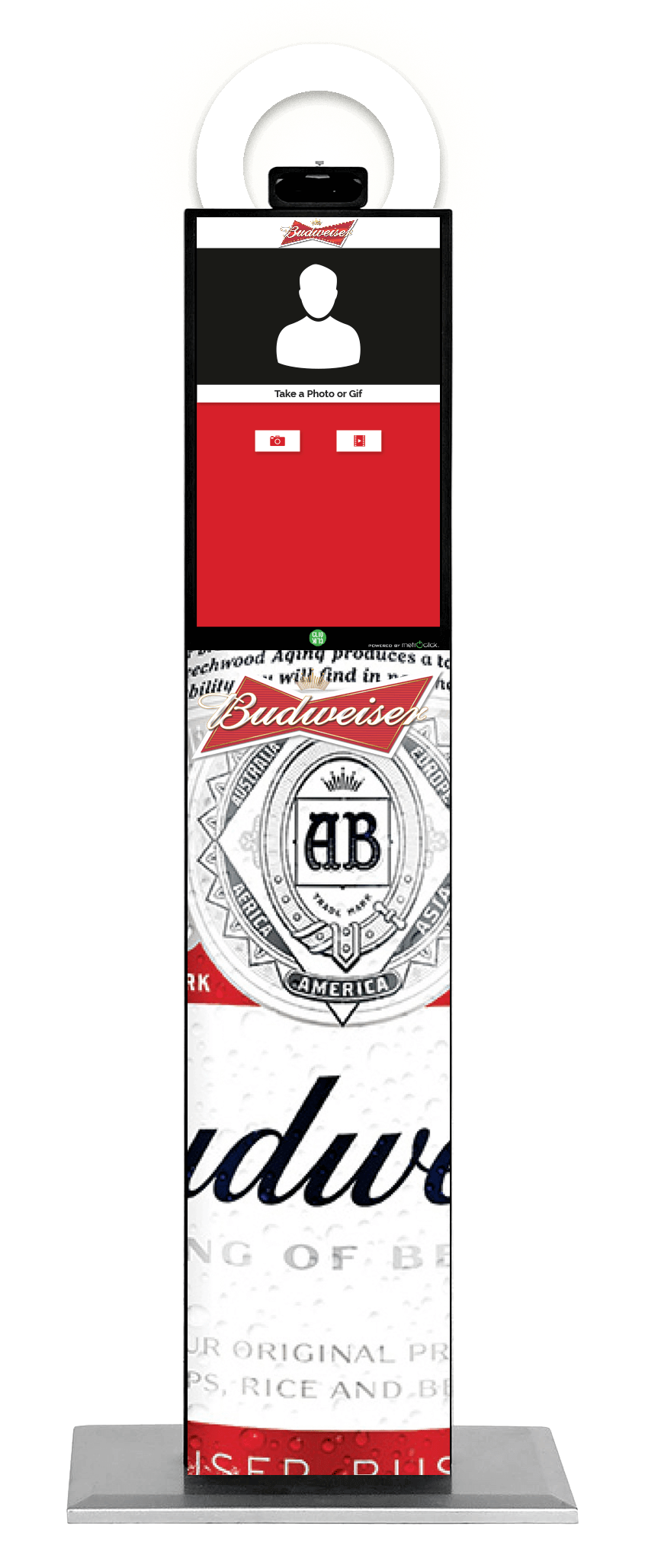 Options to buy or Rent a Photo Booth in New York and Beyond
Love Our CliqClik Photo Booth?
Contact Us To Get Started!
121 Varick Street
4th Floor
New York, NY 10013
Telephone: 646-843-0888
More Information
MetroClick Presents the New Digital Photo Booth Solution
A digital photo booth is a type of modern vending machine that operates automatically without the help of the owner. The machine has an inbuilt camera that takes pictures in a digital format that can then be shared via social media platforms.
How the CliqClik Digital Booth Works
Enter the photo booth and select your payment choice. You can then enter as an individual or multiple people. Pose for the pictures. After entering alone or with other persons you will take your time and pose for the booth camera. You will probably pose for several times depending on the exposure number that you had set. The machine will take several of your photos after posing in different styles. The digital Vending machine has a very sensitive screen-touch. You will have the opportunity now to select the best pictures among the ones taken and decide to keep it using the touch-sensitive screens. The machine has inbuilt features that help modify and make the picture you have chosen more attracted in any way you will like. These features include clip art, borders, colorful backdrops, virtual stamps, and many others. Other features enhance the beauty of the customer. You can decide how big you want the photo to be and also the number of photos that your group members will need. The machine usually prints a photo sheet of dimensions 10 X 15 cm. The sheet has the pictures according to the number you had selected. In some photo booth places, you will find laptops and scanners that will help you keep the original photo before you decide to divide the picture.
The Digital Photobooth Solution That is Remarkably Fun
Reasons why you should use the booth. The following are the reasons you should do not miss out on using a digital photo booth:
A fun way to create a memory – The booth is a fun way to take a picture mostly when you are with a group of people. The picture taken by the photo booth will include all the people in the group; this is contrary to when the picture will be taken by one of the group members. It also creates a good memory among those who visited it so as to remember such a day that they spent some good time together.
Takes a series of pictures in seconds – The machine can take a series of photos within seconds, unlike the regular camera where you have to wait for some time for other pictures. You will just have to change your postures depending on the number of pictures you expected.
Automatic printing of the pictures – After the machine has taken your picture, it is printed there and then after you have done your necessary corrections and beauty enhancements. Thus the machine saves a lot of time for you as you get your image in record time.
You can take photos for individuals, family, and friends all together – The machine ensures everyone is included in the photo and also gets a copy of the group photo after it has been printed.
Alternation of lighting and color – The photo booth has inbuilt alternating lighting and colors that will help ensure the photo taken in there have the required amount of light and color. Other cameras and smartphone cameras usually cannot do lighting and color effects. Thus the machine is still of an essential tool to us even after the invention of this gadgets
The booth picture editing features – The booth has features that help make your picture beautiful. Such features include hair change, lipstick application, fixing blemishes that may appear on the photo and make your eyes look like they are sparkling. You can also change your original background photo to a different environment that may like.
Sharing of pictures taken to mobile phones – Some new inventions have come up, and the new digital vending machines do allow for sharing and sending of photos to your mobile phones in soft-copies. This sharing is a great thing as you will get the chance to have both the hard and soft copy of the photo.
The History of the Original Party Photo Booth
A little history of when the machine was first used. The first photo booth came into being on Broadway in New York City. The year was back in 1925. Anatol Josepho, a Russian, shipped with this first photo booth to the US. It used to print to a maximum of eight pictures in a period of about ten minutes. The booth was received warmly as most people visited it to have a feeling of how it felt. The digital photo booth of today has had a lot of changes and more features included in it, unlike the first booth. The improvement is due to the changes in innovation that have been experienced since its inception.
MetroClick Photo Booth Digital Solution For Parties, Venues, and Events
How the machine can improve your business:
Value addition to business thus more profit.
The machine will act as a valuable addition to your business as people coming to your business place will get to use the machine. The coming of more customers will increase your profit margin a great deal. The booth will create a uniqueness to your business due to its strategic positioning at your business place.
People will have to talk about your new business venture in photography and the new booth. This talking will make your business to be known far and wide. Thus in a short period, you will be experiencing a continuous flow of customers. They will have to know your location and what deal in other than the booth itself hence boosting your business.
The MetroClick CliqClik digital photo booth is a one of a kind machine that cannot be compared to any other type of machine that takes photos. The booth has features that are not available on any other photo booth machine. This is the perfect photobooth solution for commercial and private events, parties and venues.