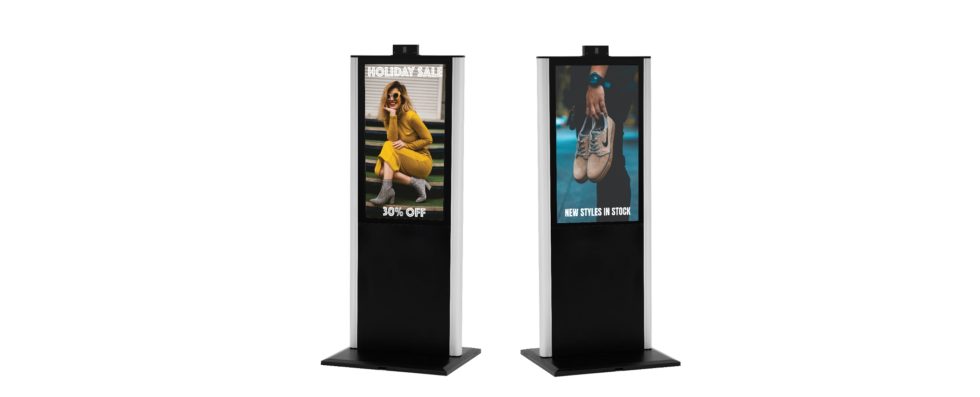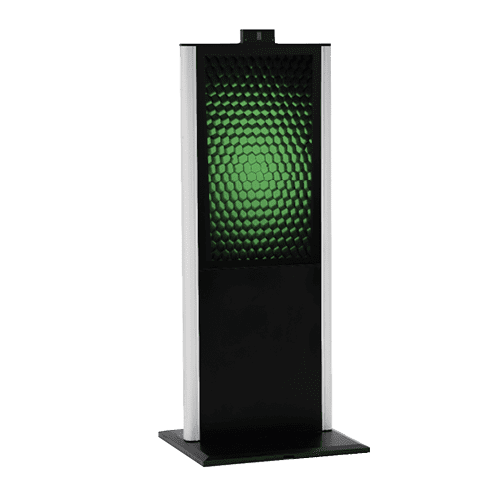 Additional
Features
Full HD Industrial LCD-panel with backlight LED, A+ quality
Capacitive 10-finger multitouch
Intel Celeron QuadCore processor, 4G RAM, 64G SSD
Fanless operation, no moving parts
Complete out of the box working X86 architecture
2 years guarantee
MetroClick's Vertical Kiosks
Available in 22", 32", 43" and 55" €display sizes. MetroClick's Large Format Multi-Touch PC Kiosks are manufactured featuring full HD industrial 24/7 LCD panels for constant use with energy-saving LED backlight technology. All models come with 10 finger multitouch capacitive Touch Panels and have a slim, extraordinary stylish appearance. Each kiosk has an extra wide viewing angle and is equipped with faytech´s industrial fay-002 mainboard series with its powerful but energy efficient QuadCore Celeron processor. MetroClick´s industrial grade 64GByte SSD with preinstalled Linux Operation System (for Windows 7 to 10 drivers are available), W-Lan and many PC ports behind a lockable cover provides a complete and secure solution which can be installed and used immediately.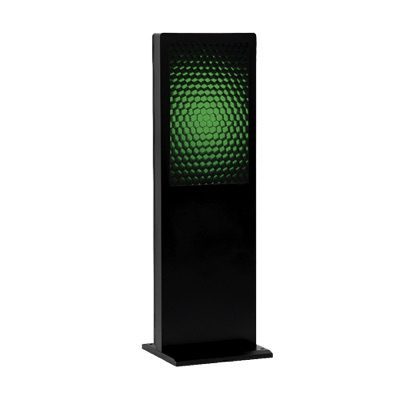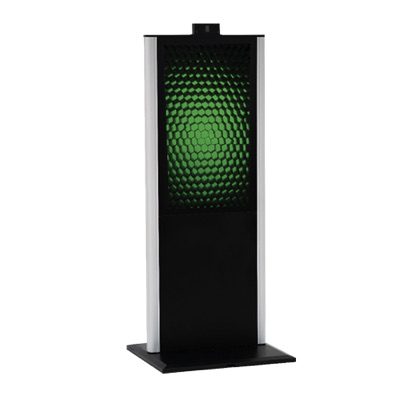 Vertical Touch Screen Kiosk Solutions by MetroClick
Transform your business with MetroClick's state-of-the-art vertical touch screen kiosk solutions. Our kiosks integrate the latest technology to offer your customers an interactive and captivating experience. Whether your goal is to enhance customer engagement, optimize operations, or boost sales, our vertical touch screen kiosks provide the ideal solution. Don't miss the chance to revolutionize your business and stay ahead of competitors. Invest in MetroClick's vertical touch screen kiosk solutions now and witness the impact of cutting-edge technology firsthand!

Maximize Your Business Potential with MetroClick's
Cutting-Edge Upright Kiosk Solutions
Looking for an innovative approach to elevate your business and engage with customers? MetroClick presents top-of-the-line vertical touch screen kiosk solutions to propel your business forward. Our touch screen kiosks are crafted with the latest technology, boasting ruggedness and durability suitable for any industry. Whether your aim is to enhance customer engagement, optimize operations, or increase sales, MetroClick's vertical touch screen kiosks provide the answer you need. Don't hesitate; invest in your business today and join the multitude of companies already benefiting from MetroClick's vertical touch screen kiosk solutions.
More Information
What are Interactive Upright Kiosks?
Interactive upright kiosks are cutting-edge, engaging tools that deliver a more captivating experience compared to conventional signage. These kiosks also serve as valuable resources for gathering insightful customer data.
When selecting an interactive kiosk, it's crucial to carefully evaluate the software platform, as it influences aspects such as security, monitoring features, integration, and portability.
Envision an upright kiosk as a compact unit featuring a window for customers to purchase items, pay for services, or obtain information. These kiosks are commonly found in locations like newsstands, bandstands, and subway entrances.
Kiosks offer numerous additional applications beyond their primary functions, such as providing public Wi-Fi access or functioning as electric vehicle charging stations. Businesses can utilize kiosks to collect customer feedback, enabling them to refine their offerings and services.
Strategically placing kiosks near other points of interest, like stores or museums, can draw in more customers. Moreover, kiosks offer a straightforward and convenient purchasing method, encouraging repeat business.
Interactive kiosks help eliminate many repetitive tasks for employees, allowing them to focus on more significant roles within the organization. This leads to increased job satisfaction and overall productivity.
For example, digital kiosks can support customer service associates by facilitating quicker and more accurate sales, enabling them to locate the right product without human intervention. This time-saving feature reduces stress and enhances the overall customer experience.
Touchscreen kiosks are user-friendly, making customers more likely to choose them over traditional self-service options. This fosters customer loyalty and satisfaction, ultimately resulting in increased revenue and a robust brand image.
Interactive kiosks offer numerous advantages to businesses, but it's important to keep a few things in mind when selecting one for your company. Consider screen size and orientation before making a final choice.
Upright screens are a popular choice due to their ease of sight from a distance and ability to be mounted flush against walls without taking up too much room. Furthermore, upright displays boast greater recognizability than angled displays, making them ideal for areas with heavy foot traffic or busy retail outlets.
Your Retail Space with MetroClick's Modern Upright Kiosk Hardware
As its name implies, this vertically oriented self-service kiosk solution is perfect for any retail environment and comes in various configurations. With a variety of options available, this digital upright kiosk displays essential information in a customizable menu to keep customers coming back.
MetroClick's award winning content management software makes this task effortless – plus, there's no need to be tech savvy to reap the rewards! With just a touch of the right key or swipe you'll stand out from competitors with ease!
Customer Engagement with MetroClick's Customizable Standing Kiosks
Digital technologies like omni-channel messaging and connected CRM enable brands to use data to deliver personalized content and experiences that engage with customers in real time. This enables companies to stay ahead of growing customer expectations, maintain their brand integrity, and offer concierge-like engagement.
Personalization is a top priority for customers, who expect companies to understand their individual needs and offer tailored experiences as they move from awareness to purchase. It's also essential for customer service: 83% of consumers expect immediate engagement when they contact a company, while 78% seek an ongoing dialogue with their brands.
Consumers expect seamless customer experiences that build trust with brands, and companies can achieve this by optimizing their team structure, operations, and technology. This involves staying abreast of customers' changing needs and ethically using their data to guarantee the best experience.
Upright kiosks offer customers an interactive digital display that will help your brand stand out in the retail environment. They are capable of showcasing a wide range of content and features that will help make your brand stand out among competitors.
Customizable kiosks enable retailers to display product details, price points, promotions and add-on items for customers. Furthermore, they can collect valuable customer data/profiles in order to enhance the shopping experience and foster loyalty among their patrons.
The custom kiosk design process begins with a consultation between the client and MetroClick's engineering team. Our engineers draw upon their extensive expertise to craft practical solutions tailored to each individual's application.
Once the client's needs are identified, MetroClick engineers create conceptual and environmental renders to review with the customer and sales teams. Once these requirements have been agreed upon, MetroClick engineers will design a solution that meets both their specifications and budget while offering an optimal user experience.
Future of Interactive Upright Kiosks
Upright kiosks are becoming an increasingly popular solution for a range of businesses. From quick-service restaurants and hotels, retail stores and airports, forward-thinking organizations understand the potential savings in time and money while improving customer satisfaction and experience.
Interactive upright kiosks can help businesses and organizations that rely on customer interaction shorten wait times. This could translate to higher customer satisfaction ratings as well as increased revenue for companies willing to invest in this technology.
Kiosks are an invaluable solution in a variety of industries. They can be utilized for ticketing, payment, information gathering and more.
When adding a kiosk to your business, it's essential that you select the appropriate model for the space. Selecting an ineffective model could make running it difficult and lead to unnecessary spending.
For an interactive upright kiosk, the most common choice is a touch screen. However, what type of touchscreen you select can have an immense effect on how well your kiosk serves its purpose.
No matter which touchscreen type you opt for, it's essential to understand how best to protect it from damage and abuse. This includes selecting an effective enclosure, installing a highly stable cement mounting and using protective materials.
Another factor to consider when selecting your display screen is its size. A large, bright and eye-catching display may help draw attention to your kiosk in a busy area; however, keep in mind that larger screens come at a greater expense.
In addition to screens, you should take into account the hardware inside your kiosk as well. This includes internal components like printers, coin/bill holders and other specialized hardware.
Once you've determined which features are essential to you, it's time to begin designing your kiosk. Look for a manufacturer who can craft the perfect kiosk tailored to meet both your requirements and budget.
The Benefits of Vertical Kiosks for Modern Business
Vertical kiosks have become increasingly popular in recent years, and for good reason. They offer a modern, sleek design that is perfect for a variety of applications, from retail to hospitality to healthcare. As a leading provider of interactive digital solutions, MetroClick has been at the forefront of this trend, offering a range of high-quality vertical kiosks that are designed to meet the unique needs of businesses in a variety of industries.
Why Opt for MetroClick's Vertical Kiosks?
There are numerous reasons why businesses of all sizes should consider MetroClick's vertical kiosks. Primarily, they are designed with user experience in mind, ensuring they are intuitive, user-friendly, and equipped with a variety of features suitable for multiple applications. Many of our vertical kiosks include touchscreens, enabling users to engage with the kiosk in a natural and intuitive manner.
Furthermore, MetroClick's vertical kiosks are built for longevity. We utilize only top-quality materials and components, and our products undergo rigorous testing to meet our strict reliability and durability standards. This guarantees consistent performance from your MetroClick vertical kiosk, even in high-traffic environments.
Customization is another advantage of MetroClick's vertical kiosks. We recognize that each business is unique, so we collaborate with clients to create tailored solutions that cater to their specific requirements. Whether your kiosk needs to promote your brand, provide information, or facilitate transactions, we can assist.
Applications of Vertical Kiosks Across Industries
Vertical kiosks, with their versatility, can be effectively employed across various sectors such as retail, healthcare, and hospitality. MetroClick's vertical kiosks serve as excellent examples of their diverse applications:
Retail: In retail environments, vertical kiosks can provide customers with information about products, promotions, and events. Additionally, they can streamline transactions, allowing customers to make purchases swiftly and easily.
Healthcare: Within healthcare settings, vertical kiosks can offer patients essential health and treatment information. Furthermore, they can speed up check-ins and appointments, reducing wait times and improving the patient experience.
Hospitality: In hospitality venues, vertical kiosks can keep guests informed about hotel amenities, local attractions, and events. They can also assist with check-ins and check-outs, enhancing the overall guest experience.
Vertical kiosks are invaluable assets for contemporary businesses, delivering numerous benefits to boost customer engagement, decrease wait times, and enhance efficiency. If you seek a top-notch vertical kiosk solution, MetroClick is the answer. With our extensive range of customizable options and dedication to quality, we can help you discover the ideal solution for your distinct needs.
Have questions? Interested in a quote or RFP? Contact us today and one of our specialists will follow up ASAP!
Los Angeles
1900 State Street
Suite J
Santa Barbara, CA 93101
Miami
7630 NW 25th ST
Suite 2A
Miami, FL 33122
Metroclick Offices
T: 646-843-0888
New York
239 West 29th Street
Ground Floor
New York City, NY 10001