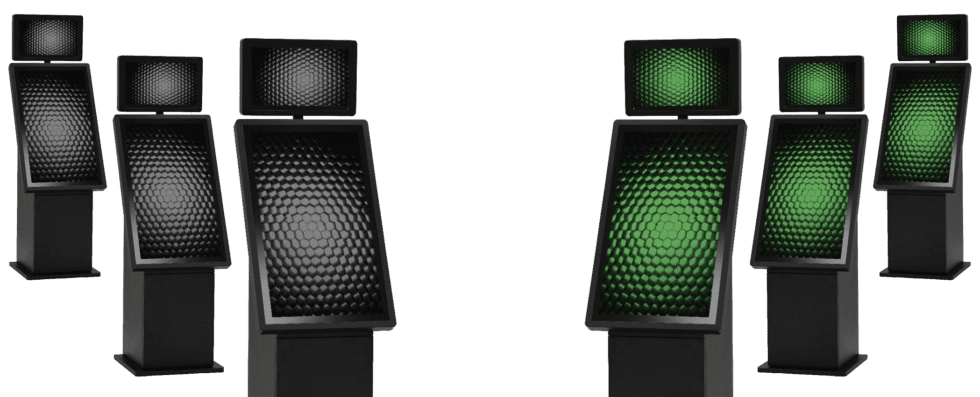 Have an idea for a
custom

project?

MetroClick, a leading provider of innovative digital signage solutions and custom projects designed to revolutionize the way businesses engage with their audience. Our state-of-the-art interactive touch screen displays and digital signage systems are tailored to fit your unique needs, ensuring a seamless and captivating experience for your customers.
Have questions? Interested in a quote or RFP? Contact us today and one of our specialists will follow up ASAP!
Los Angeles
1900 State Street
Suite J
Santa Barbara, CA 93101
Miami
7630 NW 25th ST
Suite 2A
Miami, FL 33122
Metroclick Offices
T: 646-843-0888
New York
239 West 29th Street
Ground Floor
New York City, NY 10001
More Information
Revolutionize Customer Engagement with MetroClick's Custom Solutions
MetroClick's custom digital solutions are designed to transform the way businesses interact with their customers. By incorporating advanced technology and personalized experiences, we aim to revolutionize customer engagement across various industries.
Interactive and  Immersive Digital Experiences
Our interactive touch screen displays create immersive experiences that captivate users, fostering deeper connections with your brand. MetroClick's responsive and user-friendly interfaces encourage exploration and interaction, providing unforgettable moments for your audience.
Captivate Your Audience with Stunning Digital Experiences
MetroClick's digital signage solutions bring your content to life with stunning visuals and dynamic designs. Our custom projects allow you to showcase promotional materials, real-time information, and engaging multimedia, keeping your audience captivated and informed.
Unlock the Potential of MetroClick's Custom Projects
MetroClick's custom projects offer unique solutions to help businesses enhance customer interactions and create lasting impressions.
Enhanced Customer Interactions with Customized Digital Solutions for Your Brand
Our tailored solutions focus on improving customer interactions by providing interactive and engaging platforms. With MetroClick's custom projects, businesses can create personalized experiences that resonate with their target audience, fostering loyalty and satisfaction.
The Future of Business is Digital with MetroClick
Embrace the digital future with MetroClick's innovative solutions designed to amplify your brand and optimize operations.
As the world continues to evolve, embracing the digital future is no longer optional for businesses; it's a necessity. MetroClick's innovative solutions are at the forefront of this digital transformation, providing businesses with cutting-edge tools to amplify their brand and optimize operations.
By integrating interactive touch screen displays and captivating digital signage, MetroClick creates an engaging and interactive environment that resonates with customers, employees, and stakeholders alike. Our custom solutions provide businesses with a platform to showcase their products, services, and ideas in a way that captures attention, generates interest, and fosters brand loyalty.
Moreover, our technology not only enhances the customer experience but also streamlines internal processes. MetroClick's custom digital solutions help automate tasks, improve communication, and reduce inefficiencies, allowing businesses to focus on their core competencies and drive growth. By leveraging real-time data and analytics, decision-makers can make more informed choices, adapt to changing market conditions, and stay ahead of the competition.
In today's fast-paced and ever-changing business landscape, embracing digital solutions is critical to staying relevant and maintaining a competitive edge. With MetroClick's innovative digital solutions, you can elevate your brand, improve customer engagement, and optimize your operations, setting your business on the path to success in the digital age.
Amplify Your Brand with Cutting-Edge Customized Technology
MetroClick's custom digital solutions integrate cutting-edge technology with captivating design, allowing businesses to stand out and create a unique brand identity that leaves a lasting impression.
Streamline Operations and Drive Customer Engagement
Our custom projects not only enhance customer experiences but also streamline operations, driving increased engagement and business growth. MetroClick's digital solutions simplify information dissemination, improve communication, and optimize workflow, ultimately contributing to your company's success.
Our custom projects offer unparalleled interactivity, transforming ordinary spaces into dynamic environments that empower users to explore, learn, and engage with your content. Our digital signage displays provide businesses with a powerful medium to showcase captivating visuals, promotional materials, and real-time information. By integrating cutting-edge technology with captivating design, we help businesses amplify their brand, streamline operations, and drive customer engagement.
Imagine the possibilities of integrating our touch screen displays in retail stores, educational institutions, corporate lobbies, or trade shows. Envision your customers interacting with your brand, immersed in an unforgettable digital experience that fosters loyalty and satisfaction.
Don't miss the opportunity to elevate your business with MetroClick's custom digital signage and interactive touch screen displays. Take the first step towards a brighter, more connected future by contacting us today. Our team of experts is ready to collaborate with you to create a bespoke solution that will leave a lasting impression on your audience.
Reach out to our team to discuss your vision and let us bring your ideas to life.