Our portable digital trade show display kiosks will impress your potential clients
Custom digital trade show kiosks that make your business stand out
It is a good idea to have custom trade show kiosk displays to exhibit your products and services. A good trade show display is design according to your company's vision and it gives your booth a distinctive identity of its own as you try to attract new business. A well design custom trade show display creates an impression that results in more business.
MetroClick Trade Show PC Kiosks are
Available in the Following Sizes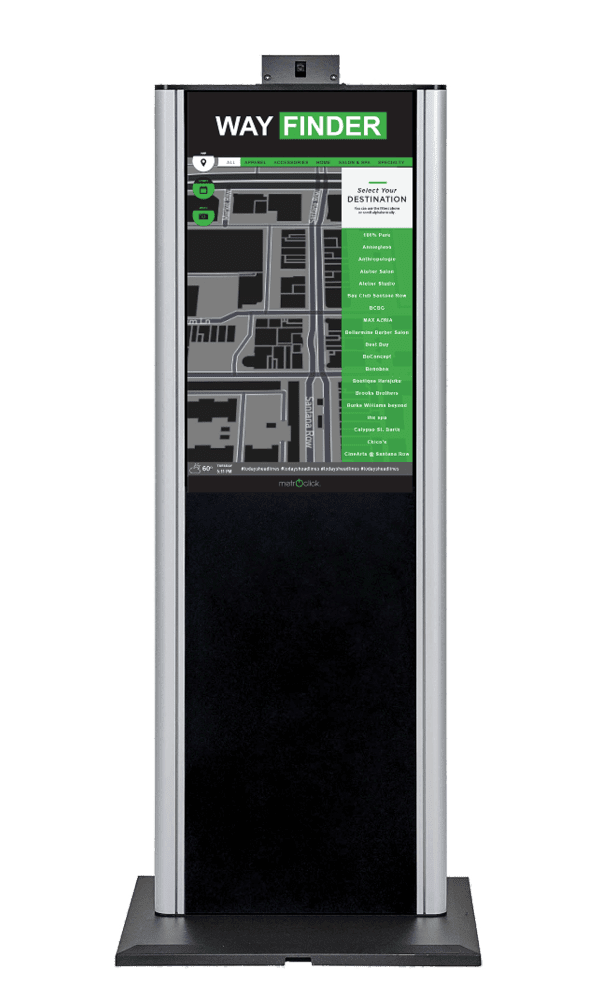 More Information
Trade Show Kiosk Design That Turns Heads
You can design your own kiosk display unit , get our standard touch screen kiosk rental or hire a manufacturer expert to create a lasting impact in any tradeshow. Custom trade show displays will get your business noticed in the following industries: Corporate, Events, Entertainment, Hospitality, Realty, Restaurants & Bars, Retail, Tradeshows and more. Each kiosk can be customized with a digital photo booth function, enhanced digital boards solutions, interactive video and touch screen capabilities.
Metroclick is one of the best trade show display companies creating digital trade show display stands
Designing custom trade show displays does not require any fixed and fast rules. Simple sketches can be used as a new design to which you can add graphics, colors, and texture. You can add attachments like counters, kiosks, shelves or banners to suit your needs.
Work with MetroClick to develop your trade show display ideas and create the best trade show displays for your industry
Your custom trade show display will be ready within a few days. Custom trade show displays are flexible enough to create endless configurations simply by rearranging panels and components. Smaller displays can be created from larger ones. Only a few simple additions are required to highlight your company name and products.
From trade show display rentals to trade show displays for sale – MetroClick can help with innovative marketing ideas
There are several companies that specialize in creating custom trade show displays. They give exclusive attention to each client's display and design their exhibits to best suit their needs. They even set up the displays at the venue of the trade show before the client arrives. These experts provide complete solutions to all trade show display needs, including delivery and installation. Using a custom trade show display gives you the look you need for a successful trade show. From concept to completion, these professionals guarantee the finest results at affordable prices.
Contact MetroClick for portable trade show displays or trade show display walls
Getting noticed is vital when you're exhibiting at a marketing event. Chances are good that there are hundreds of other exhibitors and they're all fighting for the same thing — face time with potential customers. While stunning, custom trade show displays can definitely help differentiate you from everyone else at the event, there are a few other things you can do to help your company get noticed.
MetroCLick is one of the best trade show display manufacturers producing custom trade show displays
If you sell a tangible product, make sure that it takes center stage at your exhibit. If you can, work with the company that designed your exhibit and let them know that you want your product to be featured prominently in the design. If you provide a service instead of an actual product, consider having a spot dedicated to customer testimonials about the stellar service your business provides. This way you'll be able to show how well you take care of your customers.
Bypass event organizers and use the MetroCLick trade show display systems and our trade show display design team
Many companies consider paying the event organizers a fee so that they can be a formal demonstrator and this isn't a bad idea — if the fee is within your budget. However, many businesses, especially smaller ones, find that this demonstration fee is quite expensive and out of their price range. Instead, consider having a stage or demonstration podium integrated into your custom trade show displays. You'll be able to command a crowd and you won't have to pay thousands of dollars for the chance to show off your products.
Unique trade show displays
Depending on your event, special touches like sound and lighting can be quite effective at attracting attention. However, take care to not make your booth too loud or obnoxious — visitors will likely avoid it if your exhibit seems like it belongs on a nightclub dance floor. During setup, visit nearby exhibits to make sure that the music can be heard inside and surrounding your custom trade show displays, but that it doesn't bother your exhibit neighbors.
Interactive trade show displays
Depending on your industry you can break away from the normal boring trade show displays and set yourself apart with something unconventional. There are usually general guidelines for displays, but for the most part you are not limited to specific graphical restraints. You can feel free to be as creative as possible when making a custom display. Try to keep in mind that the more effort you put into this the better your end result will be. Some people even go so far as to draw the attention of people with celebrities or games specific to their industry.
Creative trade show displays
There are a lot of ways to get clients or customers interested in you and your company. There are also a lot of ways to go broke spending way too much money on self-promotion. The best course of action is trying to find a good medium. The most extravagant displays are kind of paradoxical. This is because they generally cost an arm and a leg. If you had an unlimited amount of disposable income you more than likely would not have a need to attend or be part of a trade show. There are many reputable companies out there that can help you be successful in a trade show, but since there are so many you generally have to find one by asking them all of the right questions.
Modern trade show displays
If you need something made you should be able to get an accurate estimate of cost and time. Stay away from companies that do not want to give you exact figures as they are more than likely going to try to charge you more money than their original quote. If you can get exact figures it is wise to get them in writing just in case. The more time spent on your project the more expensive it will be. There are two things you will want to consider. If you're being charged an hourly rate you will more than likely want to go with a more experienced company as the can usually get the job done in less time. If you follow these tips you'll be on your way to having a successful trade show display in no time.
Have questions? Interested in a quote or RFP? Contact us today and one of our specialists will follow up ASAP!
Los Angeles
1900 State Street
Suite J
Santa Barbara, CA 93101
Miami
7630 NW 25th ST
Suite 2A
Miami, FL 33122

Metroclick Offices
T: 646-843-0888
New York
239 West 29th Street
Ground Floor
New York City, NY 10001