Digital
Signage
Solutions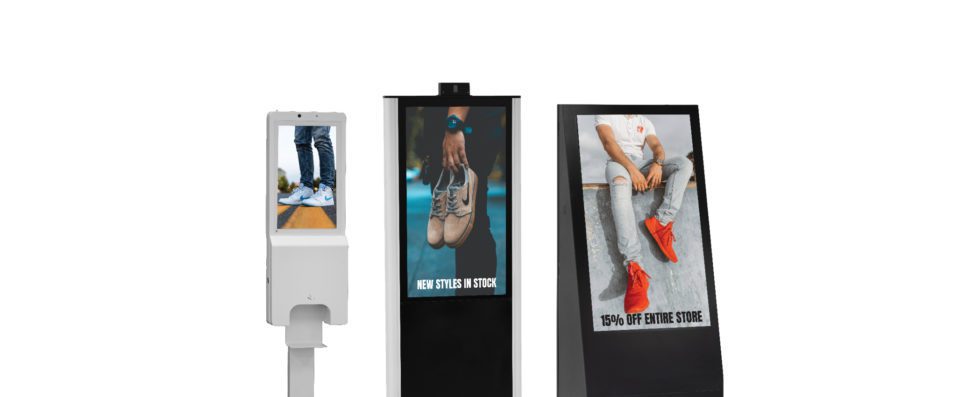 MetroClick Digital Signage Company
MetroClick has designed a Content Management System (CMS) which allows retailers to remotely push content to various digital signage displays. With a turnkey hardware and software solution, there are no more concerns about manually updating content, smudged ink or chalk, unclear artwork, or indecipherable handwriting. Rather than having to reprint signage to update content, users can remotely push vivid, eye-catching, static or dynamic images, videos and more to engage potential customers. MetroClick offers affordable options which provide portability, flexibility, and visibility!
DIGITAL SIGNAGE (n.)
A solution for customers to interact with your story, your world, your brand.
More Information
DIGITAL DISPLAYS WITH SOCIAL MEDIA
MetroClick digital signage software can pull live social media feeds of brand hashtags, account tags or geotags, displaying posts with each tag from Facebook, Instagram, and Twitter. Our digital display software also allows users to share their new purchase, picture or discovered content on Facebook or Twitter with included pre-filled brand tags and content. This system organically boosts brand impressions and awareness by way of each user's share.
SOFTWARE PAYMENT INTEGRATION
MetroClick digital payment software allows users to explore various products and product configurations through the interactive digital display. Directly from the device, the user has the ability to make a purchase with a single tap of their mobile device. API payment integration allows for on-demand check out with a credit card, Apple Pay, or Android Pay. Utilizing our MetroClick Manager software paired with a MetroClick kiosk, setting up your digital shopping experience is an easy out-of-the-box solution.
DIGITAL SIGNAGE CONTENT DISTRIBUTION
Leverage MetroClick's exclusive digital sign software and content distribution system to effortlessly distribute content across your devices. With just a few mouse clicks using our digital sign software and content management system, you can swiftly modify and update static or dynamic content in real-time.
Take advantage of our  and Integrate our hardware kiosks and software solutions to keep your business ahead of the curve, ensuring optimal visibility and engagement.
DIGITAL CONTENT MANAGEMENT SYSTEMS
MetroClick's digital dashboard offers a cloud-based digital signage solution, providing comprehensive control over your devices, their content, and the data they collect.
With tools for managing both individual and group-based devices, you can oversee your entire network down to each specific device. Each dashboard is customized to cater to the distinct needs of every customer.
METROCLICK SOFTWARE SOLUTIONS
As we all know, data is king! MetroClick's signage display software captures everything happening on your devices in real time.
Touches, impressions, customer information, inquiries can all be easily captured to give you the best insight into your customer's interests and efficacy of your current signage content.
RENT OUR SIGNAGE DISPLAYS FOR ANY EVENT
Whether it be bank digital signage, interactive kiosks, photo booths, touch screen large displays, wayfinding software, video wall – indoor digital signage, outdoor digital signage or a combination of both, MetroClick has the ability to tailor or customize our digital signage software and hardware to meet your needs (rent digital signage or buy digital signage).
From parking garages to commercial, corporate financial, schools and,retail shopping malls, MetroClick has a place in your property to subtly but effectively make an impact.
Revolutionizing Communication with Digital Signage: Innovative Solutions in NYC
Digital signage is transforming the way businesses and organizations communicate with their audiences. MetroClick, a leading company in the digital signage industry in New York City, is providing state-of-the-art digital signage solutions to businesses, retail stores, and restaurants. Let's explore the different kinds of digital signage, their characteristics, and advantages, along with how MetroClick's digital signage software and hardware can assist businesses in developing a more captivating customer experience.
Growing Popularity of Digital Signage Services & Solutions
Digital signage represents a cutting-edge communication method that employs electronic display screens to present media content such as images, videos, and text. This technology has transformed how businesses convey information to customers, employees, and visitors. Retail outlets, eateries, and even educational institutions are adopting digital signage for showcasing product details, menu items, and wayfinding data, among other applications.
The widespread adoption of digital signage is due to its capacity to provide dynamic content, increase brand visibility, and improve the customer experience. Consequently, a growing number of businesses are embracing digital signage as an effective advertising strategy.MetroClick in NYC has emerged as a leading provider of digital signage solutions, offering a wide range of products and services to cater to the unique needs of various industries.
Digital Signage Systems by MetroClick
MetroClick offers a comprehensive digital signage solution that includes hardware, software, and support services. Their digital signage software programs enable users to easily manage and update content, while their display screens and media players ensure seamless content delivery. With a team of experts at their disposal, MetroClick provides top-notch customer support to address any issues that may arise during the implementation of a digital signage project.
Solutions a Digital Signage Company Might Provide
Digital signage comes in various forms, each serving a different purpose. Some common types of digital signage include:
Interactive Digital Signage: This type of signage allows users to engage with the content displayed on the screen through touch screen capabilities. Interactive digital signage is particularly popular in retail stores, shopping malls, and office buildings, where customers or visitors can access wayfinding information, product information, or building directory details with ease.
Menu Boards: Commonly seen in restaurants and fast-food joints, digital menu boards display menus, prices, and promotional deals. They provide a convenient way to update menu options and pricing, ensuring customers have access to the latest information.
Video Walls: Consisting of multiple screens combined to form a unified image or video, video walls are frequently used in retail settings, corporate spaces, and events to exhibit advertisements, high-definition videos, and other multimedia content.
Digital Signage Advertising Networks: These networks link numerous digital signage displays across diverse locations, enabling advertisers to target a wider audience by sharing their ads on an extensive network of screens.
Benefits of Digital Signage Technology
Digital signage offers numerous benefits to businesses and organizations across all industries. Some of the key advantages include:
Dynamic Content: Digital signage enables businesses to display a wide range of content types, including images, videos, text, and even social media feeds. This versatility allows businesses to keep their content fresh and engaging, capturing the attention of their audience.
Enhanced Customer Experience: By providing useful information and creating a visually appealing environment, digital signage can improve the overall customer experience. For example, wayfinding information displayed on screens in shopping malls can help customers navigate the space more easily.
Increased Revenue: By showcasing promotions, advertisements, and product information, digital signage can drive sales and increase revenue for businesses. Restaurants, for instance, can use digital menu boards to promote new menu items, enticing customers to try something new.
Real-time Updates: Digital signage allows businesses to quickly update content in response to changes in their environment. This is particularly beneficial in situations where information needs to be updated frequently, such as displaying weather updates or alerting customers to changes in pricing or product availability.
Efficient Communications: Digital signage allows businesses to convey critical announcements, updates, and messages to their customers, employees, and visitors in a straightforward and succinct manner. This enhances communication and promotes a sense of community within a specific area.
MetroClick's Digital Signage Hardware Systems & Services
MetroClick delivers a variety of digital signage software and hardware solutions tailored to their clients' distinct needs. Their digital signage software offerings encompass content management systems (CMS), media player software, and software applications designed for specific operating systems like Android.
Our digital signage company also supplies various hardware components, such as display screens, media players, and touchscreen technology, ensuring smooth integration and operation of their digital signage solutions.
Digital signage serves as a potent communication instrument, offering businesses and organizations a dynamic and visually attractive method to disseminate information to their target audience.MetroClick in NYC is at the forefront of the digital signage industry, providing innovative digital signage solutions and exceptional customer support to businesses across various sectors.
With a wide range of digital signage products and services available, MetroClick can help businesses create engaging and informative spaces that not only enhance the customer experience but also drive revenue and growth. As the digital signage industry continues to evolve, MetroClick remains dedicated to staying ahead of the curve, offering cutting-edge solutions to meet the ever-changing needs of their clients.
MetroClick is One of the Top Digital
Signage Companies in New York City
Have questions? Interested in a quote or RFP? Contact us today and one of our specialists will follow up ASAP!
Los Angeles
1900 State Street
Suite J
Santa Barbara, CA 93101
Miami
7630 NW 25th ST
Suite 2A
Miami, FL 33122
Metroclick Offices
T: 646-843-0888
New York
239 West 29th Street
Ground Floor
New York City, NY 10001