In our Omnichannel Marketing Series, we've covered ways that brands are engaging customers and optimizing their marketing strategies through interactive technology. From e-commerce businesses opening up popup stores, to brick and mortar stores taking on tech, we see brands integrating tech and in-person experiences. Luxury car maker Lexus, one of the major sponsors of NYC's Madison Garden and its $1 billion renovation, has done just that. In an effort to maximize customer engagement inside its Lexus Lounge in Madison Square Garden, Lexus chose to integrate video walls, custom software, and a virtual reality basketball installation.
The collaboration resulted in the installation of two large interactive video walls and touch screen kiosks. The touchscreen videowalls are state of the art: they work to bring Lexus' brand to life with high resolution capabilities and with multiple users interacting with the wall at the same time, unnecessary queues are avoided. The kiosks, along with the walls, cater to a growing demand for self-service and dynamic, real-time content.
Together they enable customers to explore Lexus' website, watch video footage, browse new models and specs, take part in contests and locate Lexus dealerships in the New York tri-state area sending information right to their phones.

The installations include a client information-capture system to improve and personalize long term customer engagement. This customer data enables Lexus to get a better understanding of how customers are using the car browser and different applications, which can be reflective of what the customers care about when purchasing a new car.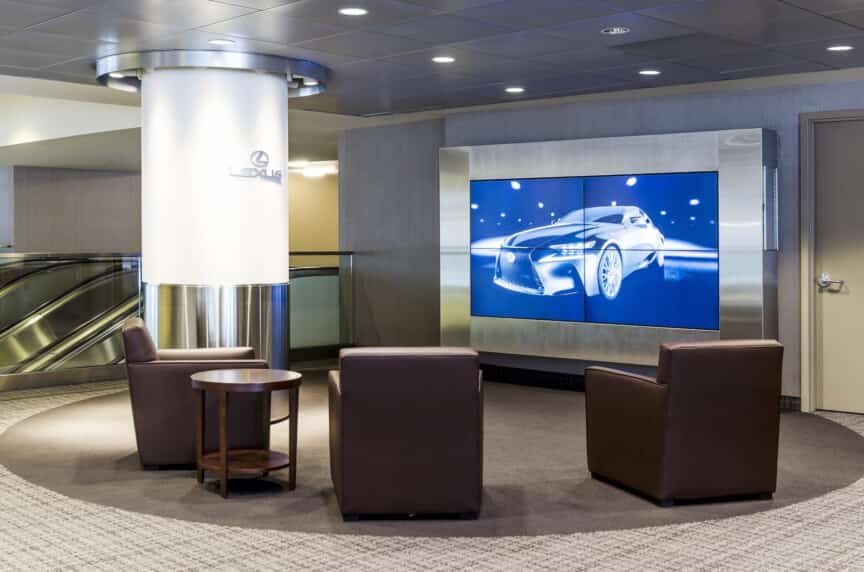 MetroClick's partnership with Lexus not only showcases how a venue such as Madison Square Garden can further drive and redirect foot traffic, but also how adding tech like touch kiosk monitor is the next step in adding value to a brand. Omnichannel allows brands to both enhance and capitalize on experience on multiple fronts simultaneously.