Improve your video-driven event strategy with these 5 event marketing examples from leading brands. Featuring examples from companies like Coca-Cola, Salesforce, and more.
Video-driven events capture the imaginations of attendees and transport them into new worlds. Video wall installations have the power to transform spaces into a buzzworthy event experience. Here are some real world examples of jaw-dropping displays you can use to inspire your next events.
Coca-Cola
The beverage giant pulled out all the stops for their 125th year exhibition in Turkey. Their event space, an arts and cultural complex, was the perfect venue for their Future Room concept. Featuring 90 square meters of a 270 degree projection system, this video-driven event fully immersed viewers in the live experience.
The surround sound audio-visual display showcased lively scenes. The show ranged from trippy red dots dancing across the room to a snowy barn with twinkling Coca-Cola bottles. Each new scene displayed a winning aspect of the hugely successful brand and invoked emotions like joy, wonder, and pride.
Salesforce
Salesforce needed a way to create an imaginative entranceway for the unveiling of their flagship San Francisco office. Their goal was to produce a passageway that would mesmerize guests with a hyperreal environment. They used a 108 inch LED video wall screen in their lobby space to pull it all off.
The software brand knew going into the project that most of their competitors' offices feature granite, glass, and some shiny elevators. Which is why they were determined to make entering office space into a truly stand-out event. Using a video wall installation to do so helped them further stand out amongst their competition in a truly unique way.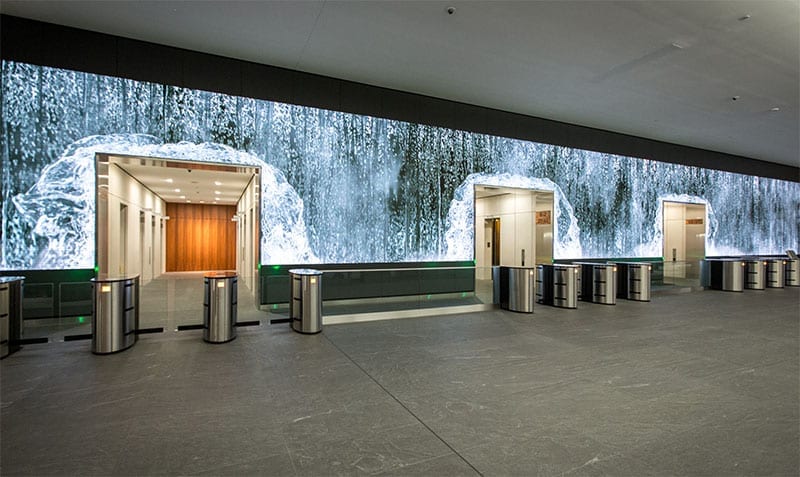 Addidas
To kick off a new marketing campaign, Adidas looked to videos as a way of celebrating the authenticity and diversity of sports they supported. Given that their subject matter is inherently visual, creating a video wall installation was the perfect solution.
Displaying a series of visually stunning films, the one-of-a-kind exhibit they used was an impressive 28 meters wide and 3 meters high. The combination of 124 ultra HD screens created a futuristic viewing experience. Using 54k resolution, visitors were able to examine the crystal clear footage as closely as they liked.
Coachella
If you've been to a concert in the last five years or so, you've probably noticed the uptick in audio-visual tools used to heighten the experience. But the famous desert music event, Coachella, isn't just any concert. For many, it's the experience of a lifetime and the festival set out to meet and exceed those expectations with the help of a striking video installation.
Used by headlining performers like Halsey and G-Eazy, large monitor installations made a huge impact on this already hype-worthy event. Coachella utilized 5mm – 7mm outdoor LED panels and a 30k Barco Project setup for their many performances. They even used video wall installations for their sponsored experiences, like the pop-up mini city Basecamp hosted.
IMAX
A brand built on the success of their high-quality projection equipment, it should come as no surprise that they unveiled a very special event in Los Angeles in 2017. IMAX created a flagship virtual reality center complete with HTC Vive headsets and stunning video wall installations.
IMAX relied on their installations to make a stellar first impression on all the guests of their pioneering event. The video wall installations greeted attendees, gave important information, and showcased examples of the experiences they would get to try for themselves. Even though IMAX recently announced they would be shutting down their live VR experiences centers in early 2019, their video-driven event strategy is still an excellent example of the importance of this medium.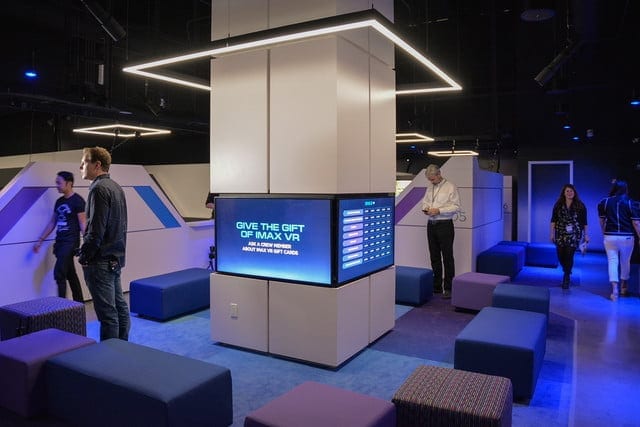 Video-driven events are some of the most innovative affairs a planner can execute. Whether you're interested in creating an immersive experience or making a breathtaking first-impression, consider adding video to your next event to make it extra special.