The hospitality industry has expanded from relying solely on personable interactions with guests with the helping hand of technology. In 2017, the Mandarin Oriental Hotel in Las Vegas introduced a robot concierge, Pepper, to its front-of-house team. The four foot 'technical ambassador' can detect guests' gender, age and mood and offer suitable information about the hotel's services.
While Pepper is great, it's not feasible for all restaurants and hotels to invest in robotics at the moment. A substitute for those in the hospitality industry are digital display screens that can improve customer experiences exponentially.
Intercontinental Miami spent $30 million dollars on renovating their hotel by adding media walls throughout the property's public spaces and a 19-story digital canvas on the outside of the building. At 5AM every morning, the building's digital canvas displays a good morning message, making it a prominent part of the city. Robert Hill, the hotel's general manager told Hotel News Now: "(It) became a beacon on the city skyline." Hill explains that the Hotel's internal media walls can be personalised for business groups, allowing them to use their own or their sponsor's branding. He also argues having the digital displays encourages business guests to stay in the bar or restaurants rather than leaving the site – presumably due to the enhanced atmosphere they create.
This may explain why more restaurants are also adopting digital display screens like kiosks as part of their dining experience. For example, the PJW restaurant group in southern New Jersey has an array of TV screens and digital menu boards. The equipment offers multiple display options such as a live sporting event or an updating display menu.
As technology now plays such a central role in people's personal and professional lives, their expectations for seamless and innovative digital experiences across the board has increased.

If the hospitality industry can meet those expectations head on it will win in an increasingly digital world. Hotels and restaurants should offer services to improve customer service such as digital screens for hotel check in or venue information. Technology also has another benefit, that alone enhances the experience for many and the brand becomes more memorable and integrated into a customer's digital lives.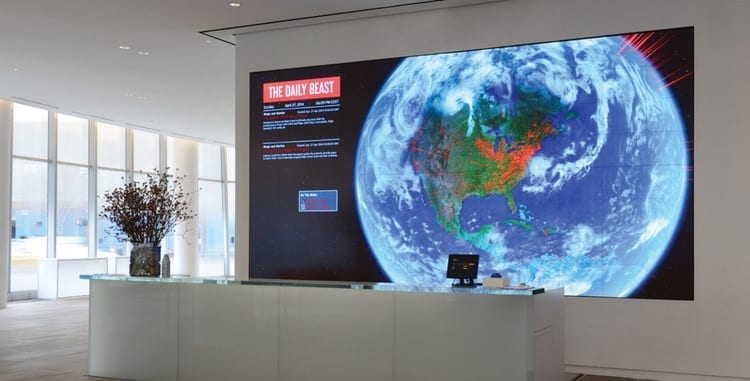 No industry is immune to the impact of technology, and those who work in hospitality are seeing the benefits of incorporating digital touch screen displays in their offering. Here are our top tips to help you get it right:
1. Tech complements people
Technology enhances customer experience, but it doesn't replace human interaction. Use the efficiencies tech brings to use your people in a smarter and more effective way.
2. Meaningful and memorable
Use technology for very functional reasons such as ordering and information sharing, or  a digital displays that can create a specific atmosphere or act as a memorable talking point for customers.
3. Enhancements to accessibility
Incorporating digital displays helps customers with speech or hearing disabilities, making services and experiences accessible to more people.
4. Up-sell your services
Customer retention is more cost effective than customer acquisition. While you have an engaged customer already interacting with your brand, use touch screen displays as a vehicle to display an enhanced service available to buy or upgrade to.