Enabling brands create interactive experiences for customers is at the core of our business. As brick and mortar retail shifts up the marketing funnel to become a point of consideration for customers instead of point of sale, we're launching a series to explore how brands are doing that–and winning.
But before we begin, we wanted to start with a thought piece defining what omnichannel retailing exactly is, to give way to the rest of our series. We'll cover what's working and what's not, and what brands are leveraging all sales and marketing channels–brick and mortar, email, social media, influencers, search engine — to their optimal use.
Here's some context. Stores are returning as an essential touchpoint with customers in what can be viewed as a renaissance of physical stores. In the past three years, the global number of shoppers visiting physical stores has increased from 40% in 2015 to 44% in 2018, according to a PWC survey analyzing consumer habits.
But this time around, things will be different. Stores are no longer managed as separate channels taking center stage in brand strategy. Instead, the future of retail will be led by a customer-centric approach across all channels: omnichannel retailing.
What is omnichannel retailing?
Omnichannel retailing means abandoning the false choice between online and offline channels, and instead focusing on delivering a seamless and integrated customer experience across all channels. Any interactive touchpoint is considered a channel including websites, mobile apps, emails, social media, messaging, phone calls, interactive catalogs and stores.
Over the course of several days, a customer might browse items on your website, save items to the cart using the mobile app at a later stage, return to the laptop for purchasing and arranging for an in-store pickup. At the appropriate time, the brand could send timely reminders through their messaging channels to encourage a purchasing decision or to let the customer know the item is ready for pickup.
With an effective omnichannel strategy, brands are able to deliver an experience that fits into the lifestyle of today's digitally savvy consumers who switch effortlessly between online and offline worlds. A survey of 46,000 consumers found that 73% of shoppers used multiple channels during their shopping journey. Omnichannel retail is more than a buzz word, it is a must for any brand seeking to gain a competitive edge.
Integrating digital touchpoints with in-store assets certainly differentiates retailers from competitors and, perhaps more importantly, it is also critical for winning over younger millennial shoppers who have come to expect a certain level of digital support in the offline world.
Delivering an immersive digital in-store experience
The habits of browsing might have changed consumer habits, but the benefits of brick-and-mortar shopping remain vitally important. Customers simply still value the ease of visiting stores and truly experiencing products. In-store shopping can allow for faster decision-making or the discovery of other products that fit their needs even better.
But most importantly, visiting stores provides the interaction customers need to be won over by products. Innovative digital technologies are perfect for amplifying the benefits of physical stores in an omnichannel retail strategy.
Using interactive screens in-store, customers can easily browse product directories, see popular product pairings and discover relevant promotions. Digital sampling or previewing products becomes a much more convenient experience with Augmented Reality, such as the interactive mirrors used in Sephora stores to experiment with different make-up styles. Deploying beacon technologies, data can be used to offer personalized services and targeted discounts to reward loyal customers.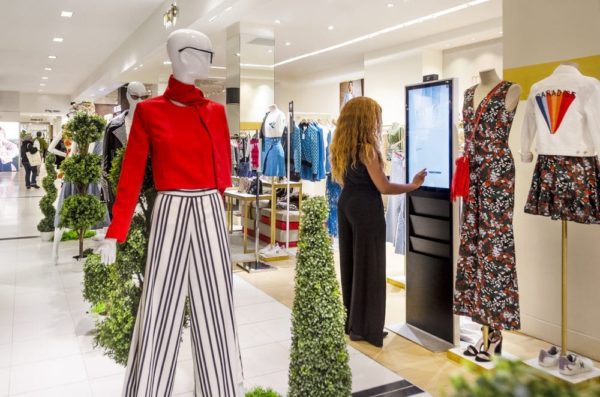 The goal is to make walking into the store or visiting the website practically the same thing. Brands that accomplish to integrate their customers' digital shopping habits with in-store browsing or purchasing will capture the hearts and minds of their customers.
Check for more updates as we continue with the series. Next week we'll cover a coveted fashion retailer, stay tuned.